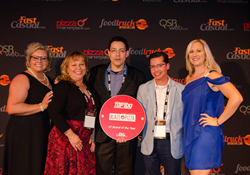 The judges were impressed when it came to Blaze's menu, sustainability, marketing and technology innovation.
LOUISVILLE, KY (PRWEB) May 23, 2017
Blaze Pizza is on a hot streak. The 5-year-old Pasadena, California-based brand has grown from two units doing $3 million into 175 locations reporting $185 million in system-wide sales. It opened 70 units in 2016, is on target to open 80 by the end of the year, and CEO and President Jim Mizes expects to exceed $292 million by the end of the year and to surpass the $1 billion-dollar mark in five years.
And that's just a few reasons Blaze earned the top spot on this year's list of Fast Casual Top 100 Movers & Shakers, said Cherryh Cansler, editor of FastCasual, who revealed the list Sunday night at a gala honoring the winners at the Sofitel Hotel in Chicago.
"The judges were also impressed when it came to Blaze's menu, sustainability, marketing and technology innovation," she said.
The brand, for example, launched a mobile app in 2016, featuring online ordering, mobile pay and loyalty rewards and signed a multi-year endorsement deal with NBA All-Star LeBron James. Other achievements include:

The addition of "brand-building" locations at Walt Disney World in Florida, Universal Studios in Hollywood and Staples Center in Los Angeles, home of the NBA'a Lakers and Clippers and the NHL's Kings.
The addition of Aguas Frescas, dessert items and new salads.
The removal of artificial colors and flavors, preservatives and high fructose corn syrup from all ingredients for pizzas and salads.
Using a plant-based straw so that all packaging is now 100 percent eco-friendly (recyclable, compostable or made from post-consumer content).
The annual Fast Casual Top 100 list honors the brands leading the industry in growth and innovation, Cansler said.
"Judges sifted through hundreds and hundreds of nominations to whittle down the list, which is never easy," she said. "Each winner was clearly differentiated from the other competitors but shared a few similarities."
For example, most invested heavily in employee training, sourced high-quality ingredients, embraced technology upgrades, strived to live their brand culture and demonstrated a passion for giving back to their communities.
"Our list specifically recognizes brands and leaders for their contributions to the fast casual segment of the restaurant industry, but when it comes to creativity, progressiveness and sheer grit, these are leading the restaurant industry as a whole," Cansler said.
Rounding out this year's top five were:

Blaze (#1)
Eatsa (#2)
Slapfish (#3)
BurgerFi (#4)
Luna Grill (#5)
Click here to read the entire Top 100 report.
The gala and the Top 100 report were sponsored by Taylor.
About Networld Media Group
Founded in 2000, Networld Media Group is a leading business-to-business (B2B) media communications company specializing in digital media, associations and events in the mobile, self-service, digital signage, retail, food service and financial services industries. Online properties include ATMmarketplace.com, BlockchainTechNews.com, DigitalSignageToday.com, FastCasual.com, FoodTruckOperator.com, KioskMarketplace.com, MobilePaymentsToday.com, PizzaMarketplace.com,QSRweb.com, RetailCustomerExperience.com and ChurchCentral.com. Networld event properties include the Fast Casual Executive Summit, CONNECT: The Mobile CX Summit, Interactive Customer Experience Summit, Bank Customer Experience Summit and the Restaurant Franchising & Innovation Summit. Networld also operates the ICX Association. Its newest offering, Networld Press, provides clients with an all-in-one website solution featuring custom website design and ongoing editorial, content strategy and website updates.
###