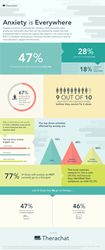 Of those who experience anxiety (daily, weekly or monthly), 92% believe they "cannot fix it alone." However, 67% do not get the support and understanding they need from those close to them.
San Francisco, California (PRWEB) May 23, 2017
Therachat, a smart guided journaling tool for improving mental health, today released results of its new survey in an infographic on the current state of anxiety in support of National Mental Health Awareness Month.
The nationwide survey of 900 U.S. respondents, familiar with anxiety, was conducted in April 2017 and benchmarked general anxiety levels as well as identified the top triggers, impact to regular activities and effectiveness of coping exercises. The survey was conducted online among a cross section of generational groups including Gen Z (ages 19 and under), Millennials (ages 20 to 36), Gen X (ages 37 to 52), Baby Boomers (ages 53 to 72) and Silent Generation (ages 73+). Therachat also analyzed differences in gender, relationship status, location type and employment status. The data insights emphasize the role anxiety plays in the lives around us and shows that while therapy is proven to help, therapist visits are not being sought out.
Key findings include:
● 47 percent of respondents experience anxiety daily, 28 percent experience anxiety weekly and 18 percent experience anxiety monthly.
● The top three anxiety triggers are "confrontation" (68 percent), "the future" (68 percent) and "work/school" (67 percent).
● Of those who experience anxiety (daily, weekly or monthly), the majority (92 percent) believes they "cannot fix it alone." However, 67 percent do not get the support and understanding they need from those close to them. This number was a lot higher with those who are widowed (89 percent) or divorced (79 percent).
● The majority (77 percent) of respondents with anxiety do not currently go to a therapist. The most common reason being attributed to cost (44.6 percent) and self-identifying symptoms as "mild" (40.3 percent).
● Of the 23 percent of respondents who visit a therapist, 46 percent find the sessions effective and 47 percent feel progress is hard to measure. With Gen X, 81 percent of therapy patients find it effective.
"In support of National Mental Health Awareness Month, this report is aimed to showcase the prevalence of anxiety, create opportunities to discuss mental health issues and build a culture of acceptance," said Kouris Kalligas, CEO and co-founder of Therachat. "We're dedicated to providing resources and tools that will benefit people suffering from anxiety and to help them cope with and achieve mental fitness goals. As part of these efforts and to promote self-awareness, we're continuing to expand the capabilities of our artificial intelligence-driven journaling tool with the mission of reminding people to slow down, document and examine their thoughts."
This is the first survey Therachat plans to release on issues related to anxiety and mental wellness as well as mobile tools and apps.
About Therachat
Therachat is a smart, HIPAA-compliant guided journaling tool that aims to improve therapy outcomes and provide anxiety management techniques. It's used by therapists and their clients as well as individual users who want to improve their mental health. Therachat's mobile app for therapy clients and users without a therapist is driven by an interactive 24/7 AI-powered chatbot that helps achieve mental fitness and therapy goals. Its web-based dashboard provides therapists with real-time insights and analysis to inform in-person sessions and keep clients on track in-between visits. Headquartered in San Francisco, Calif., Therachat is available nationwide through its web and mobile applications. For additional information, visit https://therachat.io.