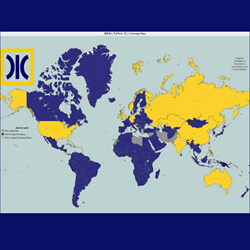 Portland, OR (PRWEB) May 23, 2017
PacificEast announced today that its IDICIA division's Telified™ service, which enables businesses and organizations to obtain status, carrier and device information for phone numbers, has expanded its international coverage to include Israel, Singapore, Croatia and Costa Rica.
In the announcement, Scott Rice, PacificEast's COO stated, "We are pleased to continue our expansion of the Telified-IC line around the world. Companies wishing to conduct commerce with consumers from around the world and organizations with a need to verify telephone accounts internationally now have a consistent real-time API that provides them added assurance when interacting with countries containing 2 billion people."
IDICIA, PacificEast's real-time information services division, makes the Telified-IC service available for phones in the following countries: the United States, the United Kingdom, Australia, Germany, India, Ireland, Norway, Israel, Croatia, Russia, the Philippines, Hong Kong, Singapore and Costa Rica. More information is available at http://www.idicia.com/telified.html and http://www.idicia.com/pdf/IDICIA-Telified-IC_Coverage.pdf.
About PacificEast Research
PacificEast Research operates custom APIs which provide businesses and organizations, primarily in the U.S. and Canada, access to high quality information services in real-time. Since 1990 PacificEast has supported its customers with a broad line of contact information, identity verification and telephone identity products and services. PacificEast Research is headquartered near Vancouver, Canada with U.S. operations based outside of Portland, Oregon. For more information, contact PacificEast at 1-800-665-8400 or http://www.pacificeast.com.