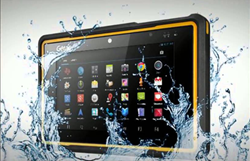 The entire line of Getac devices are engineered to meet the real world demands our customers face on a daily basis and in many of these environments, consumer devices simply fall short.
Chandler, AZ (PRWEB) May 23, 2017
Group Mobile, a rapidly expanding premiere provider of innovative, full service mobile technology solutions and a wholly-owned subsidiary of FORM Holdings Corp. (Nasdaq: FH), today announced the addition of the new Getac ZX70 Android tablet is a redesigned, upgraded and enhanced modern version of Getac's original Z710 Android tablet. One best-in-class feature of the Getac ZX70 is the design for comfortable one-handed use in remote and challenging environments such as public safety, military, transportation and field service.
"The entire line of Getac devices are engineered to meet the real world demands our customers face on a daily basis and in many of these environments, consumer devices simply fall short," said Stephanie Kreitner, Executive Vice President of Group Mobile. The new ZX70 fully rugged tablet enables mobile employees, such as field supervisors, public safety professionals, and a multitude of mobile profession to work with greater efficiency."
The fully rugged ZX70 tablet is powered by an Intel Atom x5-Z8350 1.44GHz processor, 2GB of memory and has a 32GB solid state drive. The ZX70 operates on the Android 6.0 platform, is highly customizable with an open source operating system making this tablet well-known for its simplicity and energy-saving capabilities. Expansion possibilities are nearly endless via access to millions of applications at the Google Play store -- because this tablet runs on the Android platform, custom applications can be designed for download and use.
"The ZX70 was built with field professionals in mind and is one of the most compact and mobile rugged tablets we've ever built," explains Scott Shainman, president of Getac. "Its fully rugged design, one-handed operation, extended battery life and Android platform are exactly what's needed to work in the most extreme environments."
The fully rugged ZX70 tablet is about 1.1 inches thick, and weighs 1.7 pounds. The ZX70 is a purpose-built tool with a host of configurable options to fit the way field professionals work, including dedicated GPS and 4G LTE cellular data, WiFi, 1D/2D barcode reader and NFC and RFID. The tablet includes 2GB of on-board storage expandable to 4GB, and a micro SD card slot permits expansive storage and backup options. The features two advanced touch modes: Touch/Rain, or Glove/Pen, and the included hard-tip stylus enables users to capture signatures and take precise notes on drawings, maps, and documents.
Certified for hazardous locations, the ZX70 fully rugged tablet offers optional ATEX and IECEx 2/22 certification for use in potentially explosive atmospheres.
The Getac ZX70 Android tablet can be ordered from Group Mobile today. To learn more, visit: https://groupmobile.com/getac-zx70.html or call toll free 866-RUGGED8 (1-866-784-4338).
About Group Mobile
Group Mobile, a wholly owned subsidiary of Form Holdings, headquartered in Phoenix, AZ, serves customers world-wide. Group Mobile is a rapidly expanding and growing and innovative full end-to-end solution provider of rugged mobile hardware, lifecycle services, system integration, hardware service support, pre-and post-deployment, break-fix, warranty repair, customer support helpdesk and more — all constructed to solve pressing problems and ensure our customers are receiving exceptional value, return on investment and a trusted long-lasting partnership. Group Mobile has mastered the true challenges of mobility through understanding the key elements required for a successful mobile deployment — hardware, connectivity, data and customer back-end network infrastructures.
About FORM Holdings Corp.
FORM Holdings Corp. (NASDAQ: FH) is a publicly held diversified holding company that specializes in identifying, investing in and developing companies with superior growth potential. FORM's current holdings include XpresSpa, Group Mobile, FLI Charge, Infomedia and intellectual property assets. XpresSpa is the world's largest airport spa company with 52 locations across 24 major airports. Group Mobile is a provider of rugged, mobile and field-use computing products, serving customers worldwide. FLI Charge designs, develops, licenses, manufactures and markets wireless conductive power and charging solutions. Infomedia is a leading provider of customer relationship management and monetization technologies to mobile carriers and device manufacturers. FORM Holdings' intellectual property division is engaged in the development and monetization of intellectual property. To learn more about Form Holdings Corp., visit: http://www.FormHoldings.com.
Forward-Looking Statements
This press release includes forward-looking statements, which may be identified by words such as "believes," "expects," "anticipates," "estimates," "projects," "intends," "should," "seeks," "future," "continue," or the negative of such terms, or other comparable terminology. Forward-looking statements are statements that are not historical facts. Such forward-looking statements are subject to risks and uncertainties, which could cause actual results to differ materially from the forward-looking statements contained herein. Statements in this press release regarding the merger between FORM and XpresSpa; XpresSpa's projected revenue, the ability to raise capital to fund operations and business plan; the continued listing of FORM's securities on the Nasdaq Capital Market; market acceptance of FORM products; the collective ability to protect intellectual property rights; competition from other providers and products; FORM's management and board of directors after the merger; and any other statements about FORM's management team's future expectations, beliefs, goals, plans or prospects constitute forward-looking statements within the meaning of the Private Securities Litigation Reform Act of 1995. There are a number of important factors that could cause actual results or events to differ materially from those indicated by such forward-looking statements, including, but not limited to: FORM's inability to maintain the listing of its securities on the Nasdaq Capital Market; the potential lack of market acceptance of FORM's products; FORM's inability to monetize and recoup FORM's investment with respect to assets and other businesses that that were acquired or will be acquired in the future; general economic conditions and level of information technology and consumer electronics spending; unexpected trends in the mobile phone and telecom computing industries; the potential loss of one or more of FORM's significant Original Equipment Manufacturer ("OEM") suppliers, the potential lack of market acceptance of FORM's products; market acceptance, quality, pricing, availability and useful life of FORM's products and services, as well as the mix of FORM's products and services sold; potential competition from other providers and products; FORM's inability to license and monetize FORM's patents, including the outcome of litigation; FORM's inability to develop and introduce new products and/or develop new intellectual property; FORM's inability to protect FORM's intellectual property rights; new legislation, regulations or court rulings related to enforcing patents, that could harm FORM's business and operating results; FORM's inability to retain key members of its management team; and other risks and uncertainties and other factors discussed from time to time in our filings with the Securities and Exchange Commission ("SEC"), including FORM's Annual Report on Form 10-K for the year ended December 31, 2016 filed with the SEC on March 30, 2017. FORM expressly disclaims any obligation to publicly update any forward-looking statements contained herein, whether as a result of new information, future events or otherwise, except as required by law.
Contacts:
FORM Holdings
212-309-7549
info(at)FORMHoldings(dot)com