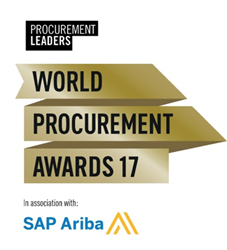 Andreas Ruehe, VP Global Supply Chain at Johnson & Johnson commented that he had "Definitely been impressed by the quality of the entries" this year which once again exceeded expectations.
London, United Kingdom (PRWEB) May 23, 2017
Procurement Leaders are excited to reveal the winners of the 11th annual World Procurement Awards, in association with SAP Ariba. Over 850 procurement elite came together at the Intercontinental – The O2, London, for the distinguished ceremony hosted by Downton Abbey actor Hugh Bonneville to celebrate procurement excellence and recognise the best teams and individuals from across the globe. This years' Procurement Service Provider Award was presented to PeopleTicker, the leading global supplier of salary and contingent labor market intelligence.
Recognised as the most celebrated and sought after awards in procurement, the World Procurement Awards represent the best projects, people and organisations globally and are an affirmation of the hard work, innovation and dedication of those at the forefront of the profession.
The Procurement Service Provider Award recognizes vendors for the work they do to help procurement teams achieve their goals leading to overall success and development of the procurement profession. Finalists were selected based upon case studies from actual client implementations that demonstrate high monetary value to the organization, great customer service, and positive client feedback.
"This award not only recognizes our products and services, but most importantly how our customers are using our solutions to drive millions of dollars in savings within their compensation management programs", said John Sculley, Chairman PeopleTicker, former CEO of Apple and Pepsi-Cola.
This year saw over 300 entries from some of the most influential companies across 34 countries. Each submission endured the rigorous 3-stage judging process of online judging, peer review and face to face regional debate to ensure the winners are the best of the best. The panel of judges included CPOs and senior representatives from Brose, Ferrero, Danske Bank, Diageo, Hewlett Packard and Flex. Andreas Ruehe, VP Global Supply Chain at Johnson & Johnson commented that he had "Definitely been impressed by the quality of the entries" this year which once again exceeded expectations.
Joseph Musacchio, CEO PeopleTicker added "We are honoured and proud to accept this years' Service Provider Award from Procurement Leaders. Congratulations to all of the winners, finalists, and entrants this year. Our thanks and appreciation to Procurement Leaders for creating this event, celebrating, and sharing the many advances in procurement best practices."
About PeopleTicker.com
To learn how your salaries and contingent rates compare to market, download our app PeopleTicker - Salary and Hourly Rates and create your own Private Labor Index. With PeopleTicker's Private Labor Index you have the ability to drill down into each element of your labor spend including both direct and contingent workers to discover new insights. This breakthrough technology keeps you ahead of the compensation game without the need for expensive consultants or relying on outdated survey data. Strengthened by over 18 years of wage research in nearly 160 countries, our data management, analytics, and SkillsVillage validation processes are unmatched in the industry. PeopleTicker's SkillsVillage is a global ecosystem of experts in procurement, human resources, and recruiting that provide crowd-sourced rate validation.
About Procurement Leaders:
Founded in 2004, Procurement Leaders™ is the world's foremost procurement insight and peer networking company. Powered by the largest community of senior procurement, sourcing and supply chain executives from leading global corporations, we accelerate our member's journey to superior performance, providing access to the in-depth insight, practical tools and expert guidance they need to transform procurement into a critical business driver. For more information about Procurement Leaders, visit http://www.procurementleaders.com
For more information about PeopleTicker
Media contact: Chrissy Dooley: cdooley(at)peopleticker(dot)com
For more information about the World Procurement Awards
General enquiries: Philippa Langdon: p.langdon(at)procurementleaders(dot)com
Press enquiries: Laura James: l.james(at)procurementleaders(dot)com.