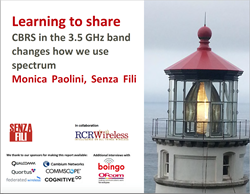 Spectrum is a finite resource that has become extremely useful – necessary, in fact – to virtually all of us. Picture what would happen if, for a single day, all wireless connections ceased to work
Austin, Texas (PRWEB) June 01, 2017
Monica Paolini of Senza Fili spoke with experts in the spectrum field for their views on CBRS and other spectrum sharing approaches, including Qualcomm, Cambium Networks, Ofcom, Federated Wireless, CommScope, Boingo Wireless and more.
The report, entitled "Learning to share: CBRS in the 3.5 GHz band changes how we use spectrum" looks at CBRS and other spectrum sharing approaches to assess the impact on the efficiency of spectrum use and the innovation in services and business models. Dynamic spectrum sharing is still in an experimental phase today, but it may become the default way to manage – and optimize – spectrum usage.
Spectrum sharing opens up spectrum access to a larger number of users, while preserving the right of incumbent users to access the spectrum with the highest priority when and where required. The result is higher spectrum utilization – accomplished in a way that does not penalize anybody: incumbents, wireless operators, or end users.
In addition, spectrum sharing frameworks may change how we use spectrum in a fundamental way, by enabling services and business models that are possible but not as compelling with licensed or unlicensed spectrum.
The CBRS 3.5 GHz framework in the US is an innovative take on spectrum sharing. Regulators and the rest of the wireless industry worldwide are watching the adoption of CBRS in the US because it has the potential to increase spectrum utilization and to create entirely new business models, and to strengthen existing ones (e.g., small cells or neutral host).
Download this report to learn about the implications of spectrum sharing including:

Spectrum sharing is moving toward more dynamic, and efficient, frameworks.
CBRS, with its three-tier coordination model, may become the first step in the wider adoption of dynamic spectrum sharing.
Real-estate players gain a larger role in CBRS, giving venue owners more control and deepening their relationship with mobile operators.
CBRS in the US and spectrum sharing elsewhere may solve small-cell business case challenges, through infrastructure sharing and neutral host models.
In the future, spectrum sharing may become the default (and not the exception) in wireless networks.
Watch the complimentary editorial webinar featuring:

Monica Paolini, President & Founder, Senza Fili Consulting
Derek Peterson, CTO, Boingo Wireless
About Monica Paolini
Monica Paolini, PhD, is the founder and president of Senza Fili. She is an expert in wireless technologies and has helped clients worldwide to understand new technologies and customer requirements, create and assess financial TCO and ROI models, evaluate business plan opportunities, market their services and products, and estimate the market size and revenue opportunity of new and established wireless technologies. She frequently gives presentations at conferences, and writes reports, blog entries and articles on wireless technologies and services, covering end-to-end mobile networks, the operator, enterprise and IoT markets. She has a PhD in cognitive science from the University of California, San Diego (US), an MBA from the University of Oxford (UK), and a BA/MA in philosophy from the University of Bologna (Italy). http://www.senzafiliconsulting.com/
About RCR Wireless News
Since 1982, RCR Wireless News has been providing wireless and mobile industry news, insights, and analysis to industry and enterprise professionals, decision makers, policy makers, analysts and investors. Our mission is to connect, globally and locally, mobile technology professionals and companies online, in person, and now on video. Our dedication to editorial excellence coupled with one of the industry's most comprehensive industry databases and digital networks leads readers and advertisers to consistently choose RCR Wireless News over other industry publications. http://www.rcrwireless.com