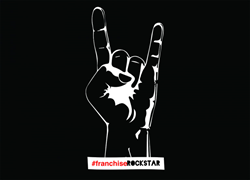 "10 years ago, I decided to do something very uncommon, leave corporate America and start a business. Through hard work, perseverance, and amazing support from MaidPro community, I am able to live the life that I love and provide for my family."
Boston, MA (PRWEB) May 23, 2017
MaidPro's Lily Carson of Chesapeake (VA) has been named a Rockstar Franchisee by Franchise Business Review. Carson is one of only 41 to receive this award and is the only franchisee to represent the residential cleaning industry.
Carson was selected from over 30,000 franchisees, representing 340 franchise brands that participated in Franchise Business Review's research in the past 18 months. The mother of two started her franchise in 2007 and is currently among the top five franchises for MaidPro. She has expanded to two locations in Virginia.
"I am completely humbled and honored for this opportunity to represent MaidPro," says Carson. "I have to say I am truly blessed. 10 years ago, I decided to do something very uncommon, leave corporate America, and start a business. Through hard work, perseverance, and amazing support from MaidPro community, I am able to live the life that I love and provide for my family."
Brett Shraiar, Business Development Manager for MaidPro stated, "Lily Carson has been an outstanding owner and leader for the MaidPro community. Her commitment to her clients, employees, and the backend of her business has been inspiring to many. We have enjoyed watching her grow and are looking forward to seeing what the future holds for her and for MaidPro."
Franchise Business Review, a national franchise market research firm that performs independent surveys of franchisee satisfaction, provides the only rankings of franchises based solely on actual franchisee satisfaction and performance.
"2017's Rockstar Franchisees set an admirable example when it comes to leadership, business acumen, and contributing to their community," says Eric Stites, CEO of Franchise Business Review. "They exemplify the far-reaching positive impact franchisees can have."
Earlier this year, MaidPro was named to Franchise Business Review's Top Franchises for 2017, Top Low Cost Franchises, Top Multi-Unit Franchises, and Top Franchises for Women. MaidPro was also named a Top 100 Franchise by Entrepreneur and is currently a Forbes Top Ten Franchise to Buy.
To get a free estimate for housecleaning services from MaidPro please visit http://www.maidpro.com.
ABOUT MAIDPRO
MaidPro is a Boston-based franchisor of house cleaning services with over 226 locations in 38 states, the District of Columbia and Canada. The company, which began franchising in 1997, takes pride in its strong owner community, cutting-edge technology and creative marketing. It has been honored with the Franchise Business Review's Four-Star Rating and Franchise 50 awards every year from 2006 to 2016 for owner satisfaction. MaidPro was named one of the Top 50 Franchises for Minorities by USA Today's Franchising Today. MaidPro is also a proud member of the International Franchise Association, Canadian Franchise Association, and the New England Franchise Association. The company can be found online at http://www.maidprofranchise.com.