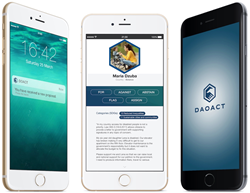 We're delighted to have ACT as a social project on WINGS. Blockchains can bring increased transparency, optimization and openness to the international development sector, and we are excited to be part of this and bring it to our community
Dublin, Ireland (PRWEB) May 23, 2017
"Social accountability" is the extent and capability of citizens to hold the state accountable and make it responsive to their needs. ACT's co-founders - Fraser Brown from Northern Ireland, and Ian Cunningham from Dublin - believe that a new decentralised autonomous organisation (DAO) will help put citizens first.
Fundamentally, ACT (https://www.daoact.org) aims to address the imbalance in power between state action and citizen action globally. When citizens speak out, this imbalance can manifest itself as bureaucratic inertia (nothing happens), or, in worst case scenarios, repercussions and reprisals against those who dare to speak truth to power.
According to ACT's co-founders, who are alumni of Trinity College Dublin's International MBA programme, this ambition is made possible through the responsiveness afforded by decentralisation, the efficiency of smart contracts, and the trust provided by autonomous governance.
WINGS (https://wings.ai) combines decentralized decision-making for filtering out low quality projects, valuing and promoting projects via predictions markets. With WINGS projects are first vetted and valued by a global community before moving to the crowdfunding stage where members of the WINGS DAO are free to promote projects to their social networks.
"ACT is a truly innovative concept in the cryptocurrency space focused on social good,¨ says Boris Povod, President of the WINGS Foundation Council, "We designed WINGS to allow people from all over the world to value and promote projects they believe in and are excited to have such a strong team comprised of ACT and their partner Draglet to be presented to the WINGS community."
"We're delighted to have ACT as a social project on WINGS. Blockchains can bring increased transparency, optimization and openness to the international development sector, and we are excited to be part of this and bring it to our community", said Dominik Zynis, Head of Communications at WINGS, "The blockchain community is fantastic - it is largely made up of very passionate people who want to make the world a better place. It is encouraging to see the global development goals and blockchain come together in an innovative DAO. With so many high-profile, game-changing DAOs now being proposed, we are excited to see ACT in the early stages of WINGS launch because of its social agenda as well the strength of its technical team".
Draglet (https://www.draglet.com/), the project's Munich based smart contract developer also expressed confidence in the decision. "We are excited by the timing and potential of WINGS as a launch platform for ACT. We built a prototype in January of this year, which fitted well with our strategy to serve the market for smart contract innovations, and Ethereum projects," said Draglet's co-founder Benjamin Bommhardt.
"It is very important for us that community-based governance is at the heart of ACT's development and launch." said Fraser Brown who had the idea after spending many years as a development finance consultant for international institutions that tackle climate change, food security, conservation issues, and social justice.
ACT plans to pre-ICO mid July 2017 with WINGS DAO, which runs on the Ethereum network. For more details, and to sign up for notifications and learn about bounty opportunities please visit http://www.daoact.org.
About ACT
ACT aims to create a sea change in how citizen action is initiated and executed, empowering citizens to better hold their governments accountable and make them responsive to their needs.
About Draglet
Draglet is a German company founded in Munich 2013 and specializes in developing Blockchain Applications, Smart Contracts and Bitcoin/Cryptocurrency Exchange Software for businesses. The development team of draglet has been involved in the cryptocurrency world since its initial beginnings and possesses years of experience, providing companies with quality Blockchain applications.
Media Contact: Ben Bommhardt, benjamin.bommhardt(at)draglet.com
About WINGS Foundation
WINGS Foundation is based in Switzerland. WINGS develops DAO technology to enable a new class of emergent incentivized artificial swarm intelligence on the Ethereum network for price discovery. Further, WINGS gives access to best in class smart contracts for blockchain based crowdfunding and for a project's decentralized governance. To learn more please visit: https://wings.ai.