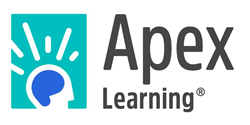 Seattle, WA (PRWEB) May 23, 2017
Apex Learning, known for digital curriculum that makes rigorous, standards-based content accessible to all students, has been recognized by the National Dropout Prevention Center (NDPC) for having curriculum that demonstrates "Strong Evidence of Effectiveness." The NDPC created the Model Programs Database, a searchable database of research-based programs to assist schools and other organizations in reviewing proven programs.
The rating scale for the Model Programs Database is based on the evaluation of nationwide prevention, intervention and recovery programs. To meet the criteria for Strong Evidence of Effectiveness, the highest possible rating, the program must:

Be in existence for three years or more.
Be evaluated using an experimental design conducted by an external evaluation team.
Have strong empirical evidence demonstrating program effectiveness in reducing dropout and/or increasing graduation rates and/or a significant impact on dropout-related risk factors.
According to the NDPC review, Apex Learning digital curriculum was used effectively in the following districts:
Houston Independent School District, TX: Increased graduation rate by 7.5 percentage points and reduced the dropout rate to 10.8 percent.
Sarasota County Schools, FL: Cut the dropout rate in half.
Evansville Vanderburgh School Corp, IN: Additional six percent of the senior cohort graduated on time and Apex Learning students outperformed peers on end-of-course exams, scoring in the 51.2 percentile vs. 48.8 percentile.
Dorchester School District, SC: 44 percentile point gain for Apex Learning credit recovery students on state exams.
"When selecting a digital curriculum partner, schools and districts can have confidence knowing that Apex Learning digital curriculum has been recognized by the National Dropout Prevention Center for having Strong Evidence of Effectiveness," said Cheryl Vedoe, CEO, Apex Learning. "Apex Learning digital curriculum is proven to help districts increase graduation rates, decrease dropout rates, graduate more at-risk students on time and raise scores on state and national exams."
To view the full Apex Learning rating in the NDPC Model Database, visit: http://dropoutprevention.org/mpdb/web/program/194.
About Apex Learning
Schools and districts nationwide implement Apex Learning digital curriculum to personalize the learning experience and support success for all students—from those who are struggling to those capable of accelerating. Proven to increase outcomes, Apex Learning digital curriculum actively engages students in learning, with embedded supports and scaffolds to meet the needs of diverse learners. During the most recent school year, there have been over three million enrollments in Apex Learning Comprehensive Courses and Adaptive Tutorials. Headquartered in Seattle, Apex Learning is accredited by AdvancEd and its courses are approved for National Collegiate Athletic Association eligibility. For more information, visit http://www.apexlearning.com or call 1.800.453.1454.