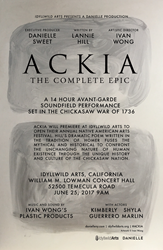 ACKIA combines the essence of sound with the concepts of abstraction and minimalism.
Los Angeles, California (PRWEB) May 24, 2017
DANIELLE and Idyllwild Arts are pleased to announce the premiere of ACKIA, a fourteen-hour-long avant-garde sound performance of author Lannie Hill's Homeric poem of the same name set in the Chickasaw War of 1736. ACKIA combines the essence of sound with the concepts of abstraction and minimalism. Pre-recorded music and sound by artist Ivan Wong's ensemble, Ivan Wong's Plastic Products, melds with live sound manipulation during the dramatic reading, uniting as a visceral and emotional soundfield installation that brings Hill's epic to life on stage.
ACKIA will debut on June 25, 2017 from 9am - 11pm at Idyllwild Arts' newly completed William M. Lowman Concert Hall to open their annual Native American Arts Festival. The heroic poem fuses Greek mythology and Native American history to confront the unchanging nature of human existence through the unique history and culture of the Chickasaw Nation. The narrative in five books pits the contentious agendas of the French and the English in the Colonial American South against Native American society.
Audience members are free to come and go as they please. ACKIA was created and produced in New York by DANIELLE with Danielle Sweet as Executive Producer and Ivan Wong as Artistic Director. The piece includes the work of sound engineer Dave Cook who joined Ivan Wong, Danielle Sweet and musician Harvey Sorgen to create the musical composition and sound algorithm for ACKIA.
At Idyllwild Arts, ACKIA will be performed by Native American actors Kimberly Guerrero (Colville, Salish-Kootenai, Cherokee) and Shyla Marlin (Choctaw) with Lannie Hill (Chickasaw) and Ivan Wong (Hawaiian).
The production of ACKIA was influenced by such works as Lou Reed's "Drones;" Erik Satie's "Vexations" performed by John Cale; Laurie Anderson's "O Superman;" Philip Glass's "Koyaanisqatsi" and his work with Robert Wilson, "Einstein on the Beach."
Idyllwild Arts is located at 52500 Temecula Road in the San Bernardino National Forest.
BIOGRAPHIES:
DANIELLE is an American fine art studio founded by Danielle Sweet in 2015. Based in New York and Los Angeles, DANIELLE creates and produces fine art projects with contemporary artists and luminaries, representing and developing their artistic practices and careers.
IDYLLWILD ARTS' Summer Program, founded in 1948, offers a rich schedule of hands-on arts workshops for practicing professional/non-professional artists of all ages in the music, dance, theatre, filmmaking, visual arts, ceramics, jewelry, painting, creative writing and Native American arts. The program has attracted numerous notable artist-instructors from a wide range of media including Ansel Adams, Elizabeth Murray and Pete Seeger, and the Native American Arts program has featured such artists as Maria Martinez, Lucy Lewis, Michael Kabotie, Juan Quezada and James Luna.
LANNIE HILL is an American author and playwright. He has published multiple plays (Uncle Alton, Spindrift, Her Eyes, Like Diamonds and There Are No Blue Flowers in the Tropics); an anthology of dramatic works; a volume of monologues (The Nine Monologues from Experience); an epic dramatic poem (ACKIA); and a novel (The Slave to Memory).
DANIELLE SWEET is a New York-based art dealer and the founder and director of DANIELLE. An Oregon native, she earned a B.S. in journalism from the University of Oregon. Prior to founding her eponymous studio, Danielle worked with such companies as Apple, Callaway Arts & Entertainment, Harper's Bazaar, J.Crew and The New York Times.
IVAN WONG is a fine artist, musician and composer. He earned a B.F.A. in painting from the University of California, Los Angeles where he studied with David Hockney, George Herms, Laddie John Dill, Vito Acconci and Alexis Smith. Wong was formerly the bassist in bands The Boxboys, Little Shining Man and Voodoo X. A painter and printmaker, he has produced hundreds of books with renowned artists of our time and exhibited his paintings, sculptures and prints internationally.
DAVE COOK, founder and engineer of Area 52 Studios, has album credits with artists such as The B-52's, 10,000 Maniacs, The Mighty Mighty Bosstones, Juliana Hatfield, Graham Parker and Nick Cave & The Bad Seeds, among others; has mixed live radio concert broadcasts for artists including David Bowie, Alanis Morissette, Bare Naked Ladies, Goo Goo Dolls and Radiohead; and has toured mixing live concert sound for artists such as Laurie Anderson, Ravi and Anoushka Shankar, Carly Simon, Natalie Merchant, Graham Parker & The Rumor, and Medeski, Martin & Wood.
HARVEY SORGEN is a drummer, percussionist, educator and composer. He has worked with some of the greatest artists of our time, including Hot Tuna, Paul Simon, Ahmad Jamal, Bruce Hornsby, Carlos Santana and Dave Douglas. He continues to tour and give workshops around the world on jazz ensembles, improvisation, percussion master classes and audio production.
KIMBERLY GUERRERO (Colville, Salish-Kootenai, Cherokee) is an Oklahoma-born, LA-based actor, writer and director. Her recent stage credits include Manahatta (The Public Theater, Off-Broadway), August: Osage County (Steppenwolf, Chicago/Broadway/London/Sydney and The Old Globe, San Diego with director Sam Gold) and The Frybread Queen (Native Voices, LA). Her notable Film/TV acting credits include The Cherokee Word for Water, Blood & Oil, Bones, Hidalgo, Longmire, Grey's Anatomy and a memorable turn as Jerry's Native American girlfriend in Seinfeld. Kimberly is a founding member of the award-winning indigenous filmmaking team, The StyleHorse Collective.
SHYLA MARLIN (Choctaw) is a graduate of USC Theatre and an actor, writer and producer. She has worked in several studio and independent feature films such as Whatever it Takes (Sony), Woo (New Line), Grace (Cinequest), Spiritual Warriors (Toronto Indie Can), among other film and television credits. Her recent writing and producing endeavor, A Starbuck's Story, was featured in the national film festival circuit garnering Best Short and Best of Festival from the FAIF film fest in Hollywood. Still Standing is her first full-length theatre production.