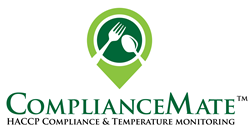 Lawrenceville, GA (PRWEB) May 23, 2017
CM Systems, LLC, known for its industry-leading ComplianceMate temperature-tracking and food safety technology, will return to the 2017 National Restaurant Association (NRA) Show from May 20-23, 2017 in Chicago. Visit Booth #9442 (near the Bellavita Expo) for personal demos of ComplianceMate's newly expanded range of offerings.
ComplianceMate can now manage and monitor temperature and food safety tasks for restaurants and commercial kitchens of all sizes.
Visit Booth #9442 at the 2017 National Restaurant Association Show to learn more about the brand new ComplianceMate Lite, Plus and Pro products and to see the ComplianceMate system in action.
"The owners of smaller kitchens can face more risk than enterprise operations because of how much they've personally invested into their store," says Thom Schmitt, Chief Operations Officer of CM Systems, "and they may not have the resources of an enterprise-scale operation."
For that reason, CM Systems is debuting three new additions to the ComplianceMate family in addition to ComplianceMate Enterprise:

ComplianceMate Lite includes a tablet, case and wireless Bluetooth probe;
ComplianceMate Plus offers two automated sensors and a gateway for cloud functionality; and
ComplianceMate Pro includes all of the above.
These new ComplianceMate products will allow smaller and single-location operations to cost-effectively monitor their food safety with enterprise-grade technology. All ComplianceMate products utilize wireless temperature sensors, a tablet device, Bluetooth hand probe(s) and proprietary management software. The whole system works wirelessly while providing alerts, reports and analysis to all levels of management, from store level to owners and corporate offices.
"Employees can quickly and efficiently work through the variety of checks they conduct on a daily basis, gathering all the required information, including photos, in a digital, time stamped format," says Schmitt, "while temperature and other food safety anomalies can automatically trigger alerts to multiple levels within the organization."
Attendees of the 2017 NRA show can schedule a 15-minute private, hands-on demo. There, they can interact with a ComplianceMate tablet and smart temperature monitoring equipment. The first 75 visitors to schedule a demo will receive a free gift.
For a first-hand demo, schedule 15 minutes with ComplianceMate or visit Booth #9442 any time during show hours from May 20-23. Visit http://www.compliancemate.com for more information.