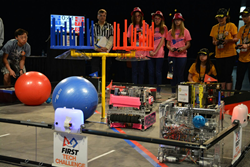 "Entomo has a made a strong commitment to supporting STEM education in our community," said Sanjoy Chatterji, Founder and CEO of Entomo.
Bellevue, WA (PRWEB) May 23, 2017
Entomo, Inc. is proud to sponsor a robotics team of local middle school students, nicknamed "Robo Thunder," for the second year in a row. This year's FIRST (For Inspiration and Recognition of Science and Technology) World Robot Games Championships were held in Houston, Texas, from April 19 to 22. This was the team's second season and the second time making it to the World Championships.
"Entomo has a made a strong commitment to supporting STEM education in our community," said Sanjoy Chatterji, Founder and CEO of Entomo. "Competitive robotics provides a great way to learn hands-on tech skills, problem solving and collaboration, which are all essential in the 21st century economy."
Qualifying for the World Championships capped a grueling season for the team as they advanced through six competitions since November 2016, including the State Championships, and the Super-Regional Championship for the 13 western states.
At the World Championships, Robo Thunder held their own in matches against 64 other teams (13,000 students from 64 countries). They were undefeated after 9 rounds of matches in front of an audience of 30,000 at the Minute Maid Park, the home of the Houston Astros. After topping pool play, Robo Thunder won several elimination matches to win their division and stormed into the finals. The Championship Finals were a hard fought best 2 out of 3 series, where they were bested, but not beaten, by a very talented high-school team from Montana.
Throughout their very successful season, the team won many awards including: the Rockwell Collins Innovate Award – which celebrates a team that not only thinks outside the box, but also has the ingenuity and inventiveness to make their designs come to life and the Think Award – given to the team that best reflects the journey the team took as they experienced the engineering design process during the build season based on the team's engineering notebook.
According to the captain of Issaquah Robotics, a competing high-school team, "Robo Thunder has truly shown what Washington teams can do on the world stage." What motivates the girls to challenge the predominantly male high-school students competing in the World Championship? "We want to show that girls can build cool robots, too" said the Robo Thunder team members. The Robo Thunder girls have spent the past year studying robot construction and programming, then designing, building, programming and perfecting their competition robot. According to the girls, "Our robot has six major subsystems, and we went through five or more major revisions on each of them, improving our robot before each and every competition."
About Entomo
Entomo is a leading provider of cloud-based channel revenue management software and services. We help businesses effectively manage distribution channel complexity to capture unrealized revenue, reduce costs, improve partner performance and collaboration and ensure compliance at all levels. Entomo's SmartHub® is the industry's most flexible, scalable, and comprehensive enterprise channel management platform, enabling automation and simplification of all channel-related workflows, processes and financial activities. Entomo supports the channel revenue management activities for global enterprises including Brother International, Broadcom, Dolby Labs, Elo Touch Solutions, Keysight Technologies, Kingston Technology, Microsemi Corporation, Qorvo Inc., Sling Media/EchoStar, and United Technologies. Entomo is headquartered in Bellevue, Washington, with offices in the Silicon Valley, Asia, and Europe.
About FIRST
The FIRST (For Inspiration and Recognition of Science and Technology) Tech Challenge program has about 5,000 teams from 16 countries around the world. FIRST is a 25-year-old nonprofit organization that annually hosts the largest robotics competitions in the world for students in grades 1-12.