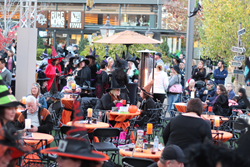 "Earning this award was a great recognition, but what's even better is being able to give the Women's and Children's Alliance an additional $5,000 to help their mission."
Meridian, Idaho (PRWEB) May 23, 2017
The Village at Meridian has been awarded the Foundation Award for Community Support from the International Council of Shopping Centers for their annual event, Witches Night Out. The Village at Meridian is the only shopping center in the Western United States to be recognized with this award for combining marketing excellence, creativity and philanthropy.
Witches Night Out brings the community together in support of the Women's and Children's Alliance, a nonprofit that provides healing and freedom to victims of domestic abuse and sexual assault. The Village at Meridian marketing department created the event to generate awareness with a goal to raise at least $6,000 in funds in order to move 50 women off the waiting list for services from the Women's and Children's Alliance. In 2016, Witches Night Out exceeded its goal by more than 100 percent, raising $12,225.
"We are proud to be a part of a community that supports one another," said Ramona Merrill, vice president of marketing at CenterCal Properties. "Last year we were able to raise enough money to help every woman on the Women's and Children's Alliance wait list."
"Earning this award was a great recognition, but what's even better is being able to give the Women's and Children's Alliance an additional $5,000 to help their mission," added Deborah Smith, marketing and business development manager for The Village at Meridian.
The Village at Meridian was recognized at a special awards ceremony attended by more than 500 marketing professionals in Las Vegas on May 21, 2017 at the MAXI Awards Ceremony. At this award ceremony, The Village at Meridian also received the MAXI Award that celebrates outstanding work and achievements of those who are transforming marketing in the real estate industry. In addition to honoring The Village at Meridian, ICSC will award $5,000 directly to the Women's and Children's Alliance.
"To have the opportunity to share our message of courage and hope for those in need of our services is essential. It can truly be life changing and also lifesaving," says Beatrice Black, executive director of the Women's and Children's Alliance. "This event was perfect and we can't thank The Village at Meridian enough for being there for us."
If you would like more information about the 2017 Witches Night Out event, please follow The Village at Meridian on Facebook.
---
About The Village at Meridian
The Village at Meridian is a project owned and developed by CenterCal Properties with an exceptional offering of retailers, and luxury architecture and landscape design. The Village at Meridian sits on approximately 100 acres on Eagle & Fairview, the busiest traffic intersection in the state. For more information about new restaurants, stores and additional upcoming events visit The Village at Meridian on Facebook.
About CenterCal Properties, LLC
CenterCal Properties, LLC, founded in 2004 by Fred Bruning and Jean Paul Wardy, is a full-service commercial real estate company in the business of investing, developing, leasing, and managing its projects. CenterCal excels in, and is best known for, creating destinations throughout the western United States with a unique strategy of "place-making," which emphasizes the importance of developing spaces with a sense of community.
Bruning and Wardy's creative vision and passion for development, coupled with CenterCal's internal expertise, is evident in the properties the company owns and operates today. Those include Bridgeport Village, Cascade Station, Nyberg Woods and Nyberg Rivers in Oregon, Valley Mall and The Trails at Silverdale in Washington, Station Park in Utah, The Village at Meridian and Treasure Valley Marketplace in Idaho, Blackhawk Plaza in Northern California, and The Collection at Riverpark and Plaza 183 in Southern California. Projects currently under development include The Village at Totem Lake and The Terminal at Ballard in Washington, Canyon Corners in Park City and Mountain View Village in Riverton, Utah, The Veranda in Concord, The Waterfront in Redondo Beach and 2nd and PCH in Long Beach, California. For more information on all of CenterCal's properties, please visit http://www.centercal.com.