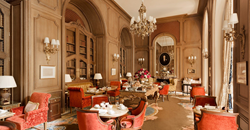 Whatever your reason for visiting Paris, choosing the right luxury hotel can make your stay unforgettable. I've traveled to Paris many times, and there are three hotels that I count on to consistently provide stellar experiences.
Chicago, IL (PRWEB) May 31, 2017
Paris is the ultimate European getaway for good reason. Whether travelers are searching for romantic getaways, yearning to explore European architecture or simply looking for a respite, the City of Lights never disappoints. Paris is a perennially favorite destination because it is all things to all people. It's vibrant and noisy; romantic and intimate; it's elegant and earthy. To experience this world-class city, choosing the right luxury hotel is important.
As a leading discount luxury travel service, IFlyFirstClass frequently advises travelers on high-end destinations. Today, the popular travel service with Dmitry Richie announced selection of the top three Paris hotels. Dmitry Richie chose these hotels for their high level of service, luxury furnishings and prime location.
"We want travelers to experience Paris in an unforgettable way," said Dmitry Richie, director of IFlyFirstClass. "Providing our clients and the population at-large with important information about the best lodging, is just part of our service."
Topping IFlyFirstClass' list is The Peninsula Hotel, an all-time favorite hotel for many savvy travelers. The property is centrally located on Avenue Kléber in the 16th arrondissement. It is well-known for its attentive service to guests and comfortable rooms, and it is one of a select few Parisian hotels to earn a coveted "palace" distinction. The Peninsula's extensive grounds, classic architecture and traditional gardens reveal its historic roots, but the hotel's recent restoration and refurbishment include all of the latest 21st-century amenities.
Location-wise, The Peninsula is ideal. It's four blocks from the Arc de Triomphe and within easy walking distance of Avenue Champs Elysées, the Eiffel Tower, Palais de Chaillot and Jardine du Trocadero.
"The staff of the three-year-old Peninsula Hotel delivers everything travelers could possibly need or desire while staying in Paris," Richie said. "The staff chauffeurs guests through the streets of Paris in a vintage 1934 Rolls Royce and delivers unique shopping excursions."
The Peninsula also provides an innovative Peninsula Academy, a cadre of bespoke programs taking guests behind the scenes in Versailles, the Louvre and the Opera. Through the Academy, guests can also explore historical mysteries, chivalrous legends, exclusive dinners and chocolate-making. Other favorite Academy activities include the chance to play soccer in a professional arena or explore high fashion jewelry design operations.
The Peninsula's spacious rooms are also a highlight of the hotel, offering rooftop garden suites and unique electronic amenities. An exclusive on-site spa provides plentiful relaxation in the form of single or couple massages, dips in the Jacuzzi and a varied menu of spa services.
Also making the IFlyFirstClass list is Hotel Costes, the place where the "in" crowd congregates. Vaunted for its luxury, Hotel Costes is renowned for its decadent and chic spaces. Cozy, well-appointed rooms, plentiful amenities and sensual delights round out the hotel's many benefits.
"For those who relish socializing and dining in the city's poshest places, the Hotel Costes is choice," Richie said. "People-watching in this opulent space is magnificent, as guests are likely to spot celebs and some of the region's wealthiest movers and shakers." Reservations at the hotel's bar and restaurant are highly coveted, but guests of the hotel receive preferential access.
Hotel Costes is also recognized for its signature scents which fill the hotel's public spaces with the aroma of roses, earthy woods and other Parisian scents. Guests can take home a little of the hotel's olfactory pleasures by visiting its exclusive perfume and rose boutiques.
Rooms at the Hotel Costes are luxurious, and concierge and room service are available around the clock. "The Hotel Costes is pure fabulousness in the heart of one of the city's most gorgeous neighborhoods. The Place de la Concorde, Tuileries Gardens, the Louvre and Palais Royal are just a couple of blocks from the hotel. If you're in town to see Paris' notable sites, the Hotel Costes is a terrific choice," noted Dmitry Richie.
Rounding out IFlyFirstClass' top three Parisian hotels is The Ritz. "Always a preeminent place to stay in the city, the Ritz is synonymous with luxury, elegance and comfort. Grand architecture, gardens and decor are here. Spectacular history is here. Voluptuous rooms are here. Haute cuisine is here, along with an elite cooking school. Lavish pampering and delightfully indulgent services are here too. Guests could spend all of their time in The Ritz and feel completely satisfied and cosseted," Dmitry said.
IFlyFirstClass notes that The Ritz's reputation for legendary luxury and service is well-deserved. The Paris hotel is everything upscale travelers want in a five-star hotel. A recent four-year renovation doubled-down on the hotel's opulence. A red carpet guides guests into the hotel, where they can enjoy lavish 18th-century decor and solicitous service. The Ritz restaurants are top-rated in a city known for its cuisine, and its Chanel Spa is a worldwide first.
Luxury and value are always the focus of IFlyFirstClass, and the travel service is pleased to provide world travelers with important information such as the top three hotels in Paris. For more information about other destinations and flights, visit IFlyFirstClass at http://www.iflyfirstclass.com.