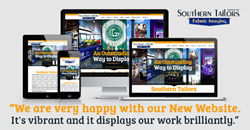 We are very happy with our new website's look; it's vibrant, it displays our work brilliantly, and I think it will appeal to our current and potential clients
Atlanta, GA (PRWEB) May 30, 2017
Southern Tailors is a company with a long and established history in the business of producing banners, flags, and gonfalons. It was first established in 1875 as a flag and banner manufacturer in Atlanta, but with the advance in technological tools, they have adapted and evolved to become fabric imaging experts, using digital printing, dye sublimation, and cutting-edge grand format inkjet and transfer technologies. As the business world itself has evolved due to the advancement and globalization of the Internet, the company decided to give their website a new design that is more aligned with current trends.
"After more than a century in the business of fabric imaging, in 2010 we decided to launch our first website but, as the digital era has taken over the business world, we thought it was time to update it to make it more current and relevant, following the latest web design trends. This will not only help us reach more clients and showcase our work in a more modern, professional manner, but will also help us get more leads. We are very happy with our new website's look; it's vibrant, it displays our work brilliantly, and I think it will appeal to our current and potential clients," said Neal A. Zucker, president of Southern Tailors.
The stars of their new website are their products. Moreover, the website is mobile-friendly, optimized for search engines, and professionally designed to exhibit their products in the most efficient, user-friendly manner. The fabric imaging experts wanted to make this major improvement to be better connected to their current customers. This new design also intends to attract potential clients by enhancing their user experience and making the information about their products more readily available on any internet-connected device. The new website offers information about their products, the techniques they use, recommendations for their clients, and more.
Southern Tailors strives to provide the best service and products to all their clients, and thus relies on qualified graphic artists and sewing professionals to meet and exceed their clients' needs. Their high quality standards and great customer service, combined with their experience have made them a leading fabric imaging company nationwide, serving the education, private, government, and non-profit sectors.
If you want to learn more about Southern Tailors' services and products, visit their website http://www.southerntailors.com. If you have further questions, you can contact them by calling (404) 367-8660.