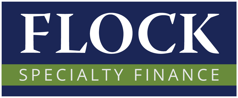 our range of financing products will appeal to a larger market segment, allowing us to expand our client base, accelerate deployments and beat the competition
Atlanta, GA (PRWEB) May 25, 2017
FLOCK's VP of Business Development, Greg Paulo, explained: "We are responding to the needs of our customers and today's market trends. It has always been FLOCK's goal to be responsive to the market by providing Fast, Flexible and Fair financing solutions to the non-performing debt buying and sub-prime consumer lending markets. Some of our prospects and customers have asked for an alternative structure to our traditional model."
With a lower advance rate against the portfolio purchase price, FLOCK's enhanced structure will offer clients a reduced profit split with FLOCK in the residual (i.e., back-end) stage of the portfolio liquidation. By giving clients more options, the new structure allows more flexibility in managing the key financing aspects of a portfolio acquisition, including payment terms, fees and profit sharing. The structure will remain a joint venture arrangement preserving FLOCK's use of a special purpose vehicle entity as the funding vehicle, with the debt purchaser as the controlling party.
Michael Flock, Chairman and CEO of FLOCK, stated, "This structural change is critical to the ongoing growth of FLOCK. By offering a solution with lower back-end profit, our range of financing products will appeal to a larger market segment, allowing us to expand our client base, accelerate deployments and beat the competition."
In December 2016, FLOCK closed on a new senior line of credit from a syndicate of four commercial banks. FLOCK also completed a significant mezzanine capital raise in the first quarter of 2017. With these new lines of capital together, FLOCK has doubled its total available capital creating new flexibility and capacity for customers. With this new capital and new financing solution, FLOCK expects to grow its deployment opportunities significantly during the second half of 2017.
About FLOCK Specialty Finance:
FLOCK is dedicated to alternative investing in a variety of specialty finance segments. FLOCK's mission is to provide clients with capital and expertise for the purchase of both charged off debt portfolios as well as for the financing of subprime consumer obligations. FLOCK believes its funding is" More Than a Transaction". FLOCK's proprietary financing structure provides growth-minded clients with a competitive advantage in multiple classes. Founded in 2007, FLOCK is headquartered in Atlanta, GA.
For additional information, please call: 770-644-0850, visit our website or Linkedin