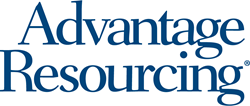 "Anytime the people you represent and your peers think enough of you to be recognized in this way; it is humbling"
Norwood, MA (PRWEB) May 24, 2017
Advantage Resourcing is proud to be ranked as one of the top ten professional search firms in the U.S. according to Forbes. The list, released May 8, 2017, ranks Advantage Resourcing North America at number eight.
Forbes, working with analytics firm Statista, compiles the top scoring list of "America's Best Professional Search Firms" from online surveys. The surveys were collected from HR managers, job search candidates, placed employees and external recruiters (peer review). HR managers, candidates and employees were required to have had experience with recruitment firms in the last three years.
President of Advantage Resourcing North America, Doug Dandurand, is honored by this recognition. "Anytime the people you represent and your peers think enough of you to be recognized in this way; it is humbling. This is a great acknowledgment of the incredible work being done by our team to create opportunities for everyone we encounter. We are all very proud of this."
The Forbes ranking marks the third time in 2017 that Advantage Resourcing has been recognized as a leader in the Staffing Industry. Earlier this year Advantage Resourcing was named to Inavero's Best of Staffing – Client list for the fifth consecutive year and to the Best of Staffing – Talent list.
To view the complete Forbes list visit https://www.forbes.com/best-professional-recruiting-firms/list/#tab:overall
About Advantage Resourcing
Advantage Resourcing is a wholly owned subsidiary of Recruit Holdings Co., Ltd., Tokyo Japan, specializing in multiple human capital management services including contingent staffing, direct/permanent hire, on-site staffing management services, Recruitment Process Outsourcing (RPO) and Master Service Provider (MSP) in the U.S., U.K., and Australia. Advantage Resourcing is a group of Hire Thinking™, industry pioneers providing innovative workforce solutions for Automotive, Engineering, IT, Manufacturing, Professional and Supply Chain clients and candidates. Through the proper alignment of talent and companies, we create opportunity.
For more information about Advantage Resourcing® please visit us at: http://www.advantageresourcing.com.
About Recruit Holdings Co., Ltd.
Founded in 1960, Recruit is a leading information services and human resources company in Japan. Through a wide range of services, the Recruit Group is focused on a variety of areas, including recruitment advertisement, employment placement, staffing, education, housing and real estate, bridal, travel, dining, beauty, automobiles and others. The Recruit Group has more than 38,000 employees and operates all over the world.
For more information on Recruit, please visit http://www.recruit-rgf.com/.
###