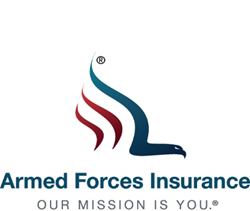 "Our partnership with NextGen MilSpouse supports AFI's mission to champion support for military families, spouses and veterans by aligning with organizations that advocate, educate and empower the military community," said Lori Simmons, CMO & VP
Leavenworth, Kansas (PRWEB) May 23, 2017
Armed Forces Insurance(AFI) is pleased to announce an exclusive partnership of the popular news and entertainment website for the military family community, NextGen MilSpouse. Delivering fresh perspectives on current events, career advice, small business development, personal finance and relationships, NextGen MilSpouse was founded by military spouse Adrianna Domingos-Lupher and is run by a dynamic team of military spouse thought leaders. NextGen MilSpouse content is distributed via their website, social channels, in weekly newsletters and through their podcast.
"Our partnership with NextGen MilSpouse supports AFI's mission to champion support for military families, spouses and veterans by aligning with organizations that advocate, educate and empower the military community. We look forward to expanding our engagement with military spouse audiences in this new format," said Lori Simmons, Chief Marketing Officer & VP, Marketing & Corporate Communications.
As part of their sponsorship, Armed Forces Insurance will also contribute insurance related content and education throughout NextGen MilSpouse's media channels.
"NextGen MilSpouse is thrilled to be working with Armed Forces Insurance. AFI's partnership allows us to continue to do what we do best – deliver fresh and modern perspectives on military life from our team of military spouse writers," said NextGen MilSpouse Editor in Chief Michelle Volkmann.
To learn more about NextGen Milspouse visit: http://www.nextgenmilspouse.com
Armed Forces Insurance(AFI) is the insurance company of choice for current and retired members of the uniformed services, their children, and Department of Defense civilians. Founded in 1887 by military leaders with a single mission: to protect the property of those who protect our nation, providing premium quality, competitively priced property and casualty insurance to military professionals throughout the Armed Forces. We know our members have unique circumstances and insurance needs, and we offer a level of personalized service that is unequaled in the industry-because OUR MISSION IS YOU ® - and your peace of mind.
The company also furthers our strong commitment to give back to military and local communities through important programs and sponsorships including the Great American Patriot Award presented at the Armed Forces Bowl, the Armed Forces Insurance Military Spouse of the Year®Award, the Vetrepreneur® of the Year Award, the Gary Sinise Foundation, and the Military Warriors Support Foundation. In early 2015, AFI established the Armed Forces Insurance Foundation to assist in educating the military community on a wide array of key personal financial topics to help them succeed.
For more information, visit the website at http://www.afi.org or call 1-800-495-8234, and follow us on LinkedIn, Facebook, Twitter and Instagram.‎
For interviews or press information contact: BP Media Relations, LLC:
Barbara Pflughaupt (212-707-8181) Barbara(at)bpmediarelations(dot)com or (917)312-2832