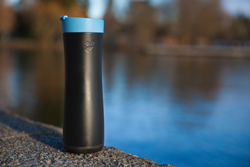 We're really happy with the success of AquaGenie and can't wait to move our campaign over to Indiegogo's InDemand platform. There, other people who may have missed out during our Kickstarter campaign will be able to pre-order AquaGenie at an awesome price
Seattle, WA (PRWEB) May 24, 2017
Over the weekend, AquaGenie surpassed its funding goal of $75,000 on Kickstarter. With two days left in the campaign, the AquaGenie team is collecting their final pre-orders of the world's smartest water bottle from people interested in staying fully hydrated and achieving their health, wellness, fitness and weight loss goals. Now that AquaGenie is fully funded, backers are guaranteed to receive an AquaGenie for orders that are placed on Kickstarter.
AquaGenie's sleek design is able to withstand the toughest of workouts, rolling around in backpacks or gym bags, or accidental drops. AquaGenie is fully immersible and washable, while other smart water bottles are not due to their ports and wires. AquaGenie recharges wirelessly and only takes 60 minutes to get a week's worth of charge. Glowing lights on the bottom of the AquaGenie remind users when it's time to take a sip no matter what angle the bottle is at. If AquaGenie is taken along on a bike ride, an individual's water intake will still be measured even if the bottle is resting in the bottle cage.
"We're really happy with the success of AquaGenie and can't wait to move our campaign over to Indiegogo's InDemand platform. There, other people who may have missed out during our Kickstarter campaign will be able to pre-order AquaGenie at an awesome price," said Dave Winkler, AquaGenie CEO. "We're really passionate about AqueGenie because it's a really innovative product that everyone from athletes to the elderly can use. Research shows more than half of adults don't drink enough water, and we designed AquaGenie to solve this problem for everyone."
AquaGenie keeps you hydrated both through its mobile app and through technology on the bottle itself. It connects via Bluetooth to the AquaGenie mobile app, which can also update your Fitbit, Apple Health, Samsung Health or other fitness tracking apps. The bottle prompts you to stay on track with reminder light on the bottle and you can check your status just by shaking the bottle and getting a red, yellow, or green indication. AquaGenie sets your recommended water goals that users can manually change and will suggest other goals based on the user's activity. The app also shows users insights into their water intake on a daily, weekly and monthly basis.
Early supporters can pre-order AquaGenie on Kickstarter for $45, which is $25 less than the market retail value. Multiple AquaGenie bottles are also available for $85. For more information about AquaGenie, visit http://bit.ly/AquaGenieKS.
About AquaGenie
Based out of Seattle, Washington, AquaGenie is building a smart water bottle that keeps track of water intake, sets daily water goals and reminds individuals when it's time to drink. The AquaGenie team believes that their cutting-edge technology will provide long-lasting benefits for anyone of any age. For more information, visit http://www.theaquagenie.com.