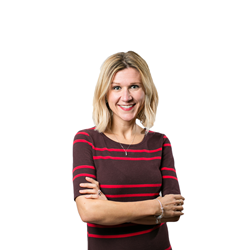 "These promotions celebrate the contributions they've each made to Leapfrog and their terrific commitment to meeting the evolving needs of our client partners."
Evanston, IL (PRWEB) May 24, 2017
"A solid team of conversion marketing and data experts is at the heart of Leapfrog's approach," says Dave Husain, Leapfrog's CEO and co-founder. "These promotions celebrate the contributions they've each made to Leapfrog and their terrific commitment to meeting the evolving needs of our client partners."
Ashley Mays is promoted to VP Account. Mays has been an integral part of the Communications teams success since she joined Leapfrog in November of 2014. Most recently she led the account team on one of the company's largest accounts, growing the business organically through consistently delivering on the conversion marketing goals. Mays is known for navigating complicated client engagements from complex SEM transitions to SPP rollouts. Her business development prowess has led to the growth of the LFX platform business.
Kara Packwood is promoted to VP Call Center. Packwood has been at Leapfrog for 11 years working on many aspects of Leapfrog's business operations. She started on the account side as one of the pioneers who championed extending their marketing capabilities beyond digital to also include offline/call center conversion to maximize ROI. Packwood built Leapfrog's Call Center practice from the operational (sourcing centers to operational set-up to rep training) to performance management processes through to strategic client/BD engagement.
Eric Cuevas is promoted to Marketing Operations Director. Cuevas joined Leapfrog in 2013 as a senior specialist supporting the company's retail business. He has grown to be a strong cross-functional partner who has worked within the Retail, Communications and EDU spaces. Cuevas also led the company's successful implementation of Workfront.
 
Joey Wiener is promoted to Marketing Operations Director. Weiner has been with Leapfrog for 6 years, starting as a project specialist. He has grown into an integral point person for the Communications space as well as a proven leader within the Marketing Operations team. Wiener has worked on a majority of Leapfrog's clients, and his knowledge of the company's sites, platform and processes led to continued growth of key client relationships. 
 
In addition, the following people have been promoted in key positions at the company in recognition of their contributions: Erin Avallon to Human Resources Generalist; Zach Bosteel to Software Engineer; Erin Boydell to Account Manager; Christopher Cusano to Helpdesk Manager; Joe Dilenschneider to Digital Media Manager; Liz Edens to Sr. Account Manager; Thea Letteri to Associate Account Director; Rosanna Ramirez to Sr. Account Manager; Bill Talsma to Interactive Art Director; and Evan Venie to Sr. Manager of Content Strategy.
About Leapfrog
Leapfrog, an iProspect company, is a Performance Marketing Solutions provider that has helped leading brands grow digital market share, acquire new customers, and deliver profitable sales for over 20 years. Its easy-to-integrate LFX Conversion Platform connects the consumer journey unlocking marketing intelligence that fuels omni-channel media buying strategies and the targeting of real-time, relevant consumer experiences that compel consumers to convert to customers. Leapfrog analyzes performance and consumer behavior to plan and predict with the purpose of driving continuous optimization. Find out more at http://www.leapfrogonline.com