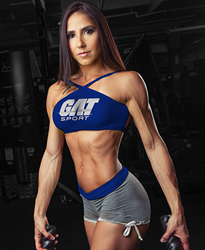 "It's easy to see that TeamGAT is like a family and that's why I feel so honored and excited to be part of the team."
Monroe, CT (PRWEB) May 25, 2017
GAT SPORT, maker of the hugely popular, clinically studied NITRAFLEX® and PMP™ pre-workouts as well as Jetfuel® brand of weight management products, is proud to announce signing IFBB Bikini Pro Angelica Teixeira as TeamGAT Athlete.
President & CEO Charles Moser says, "GAT Sport is proud to add Angelica to our TeamGAT Bikini Athletes. She provides even more athletic strength, inspiration and diversity as we expand our reach globally as The World's Most Powerful Lineup."
Angelica is an accomplished and highly respected champion IFBB Bikini Pro, with a compelling back story.
Growing up on the beaches of Brazil, Angelica was captivated by health and fitness. She started training at 18 and hasn't stopped since. Leading by example, Teixeira loves the challenge of competing harder, pushing beyond limits, and inspiring others to embrace a fit and healthy life.
Transforming herself into a globally recognized IFBB Bikini Pro, Angelica's most recent accomplishments include taking the stage to become a 2017 Arnold Classic Champion, 2017 Arnold Australia Champion, and the 2016 Ms. Bikini Olympia Runner-Up.
As a TeamGAT Athlete, Angelica now seeks to capture the Ms. Bikini Olympia throne. Angelica adds, "It's easy to see that TeamGAT is like a family and that's why I feel so honored and excited to be part of the team. I promise to represent the team with enthusiasm, passion and joy. With TeamGAT behind me, I'm sure my best is yet to come."
About GAT
Since 1997, GAT Sport has been researching, formulating and distributing the highest quality sports nutrition supplements for male and female athletes, bodybuilders and fitness and health enthusiasts. Leading products include JetFuel, Nitraflex, PMP, JetMass and its newest Ready to Drink products PMP and NitraFlex 10 oz. GAT Sport products are available in over 7,500 brick-and-mortar and online retailers in the United States as well as over 45 countries worldwide.
Charles Moser, President & CEO, has over 20 years experience in training and supplementation formulation, design and marketing. Under Moser's leadership, GAT Sport creates edgy, forward-looking products that propel the industry. Designing with clinically researched ingredients and university studies, he produces and markets clinically tested, efficaciously dosed formulas that become legendary. Charles is diversifying this highly respected global brand with high-energy workout products and those for repair and recovery after training plus general health & fitness. He drives TeamGAT to compete harder every day and on every level.
Mark Post, Vice President, has over 25 years in the nutrition and wellness industry with respected brands Met-Rx, Atkins, Garden of Life and more. Mark is dedicated to creating and nurturing strategic retail alliances. At GAT Sport, he has created and refined many new premium sports supplements that inspire athletes and fitness enthusiast to live healthy, active lifestyles and reach their fitness goals. All while building supplementation's most professional, high performance sales team.
For more information about GAT Sport and Angelica Teixeira, please visit https://teamgat.com/athletes/
Contacts:
GAT Sport
Mark Post
Email: mpost(at)teamgat.com
Angelica Teixeira
@angelicahtex
facebook.com/angelicahteixeira/ (13K Followers)
twitter.com/angelicahtex/ (804 Followers)
instagram.com/angelicaht/ (129.1K Followers)