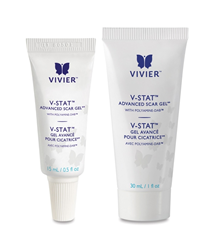 V-STAT™ Advanced Scar Gel is the only topical gel with Polyamine-DAB™ that is proven as an effective prophylaxis against hypertrophic scar formation
Vaudreuil-Dorion, Quebec (PRWEB) May 24, 2017
Vivier™ Pharma introduces V-STAT™ Advanced Scar Gel**, a new discovery that is an effective prophylaxis against hypertrophic scars.
Hypertrophic scars are unpredictable and are the most common scars following an injury or surgery. In fact, the prevalence of hypertrophic scars among Caucasians is up to 63%, and even higher among non-Caucasians, while the incidence rates can be as high as 70% following surgery. They occur when the skin does not follow the proper healing process which causes the scar to appear raised and inflamed as opposed to flat.
"V-STAT™ Advanced Scar Gel is the only topical gel with Polyamine-DAB™ that is proven as an effective prophylaxis against hypertrophic scar formation," says Jess Vivier, President & CEO of Vivier™ Pharma. V-STAT™ contains 1,4 Diaminobutane or Polyamine-DAB™, a polyamine, that plays an important role in the healing, prevention of hypertrophic scars and aging process of our skin†. V-STAT™ was developed in collaboration with board certified Plastic Surgeon Dr. Kenneth Dolynchuk backed by 30 years of research and 5 patents.
V-STAT™ Advanced Scar Gel prevents hypertrophic scars following surgical procedures such as facial procedures (blepharoplasty, face lifts), breast augmentations or reductions, abdominoplasty (tummy tuck) and body sculpting procedures and improves healing following ablative and non-ablative procedures such as lasers and chemical peels. It can also be used to heal compromised skin such as dry, chapped skin on the hands, feet and lips.
A randomized prospective double-blind clinical trial was conducted on 56 patients using Polyamine-DAB™ on scars following breast reduction surgery which revealed a 99% concordance with the treated side being subjectively better. Prophylaxis was an important conclusion.
Vivier™ V-STAT™ Advanced Scar Gel** is available in 15 mL and 30 mL tubes and available through authorized Vivier partners. Please visit vivierpharma.com, "where to buy".
**Patent Pending †Data on File
ABOUT VIVIER™ PHARMA
Vivier™ is an innovative pharmaceutical company committed to providing superior skincare solutions that change people's lives by delivering results.
This exceptional mission was achieved through years of dedicated research and development into innovative skin care technology designed to give the most visible anti-aging effects. Their passion to enhance beauty from the inside and out is what drives them to continuously exceed expectations and to be the best in the industry.
Vivier™ is proud to be one of the fastest growing pharmaceutical skin care companies and trusted by Dermatologists, Plastic Surgeons, Aesthetic Physicians and skin care specialists worldwide.
Vivier™ is changing the face of the professional skin care industry and excited to welcome you to join the beautiful skin revolution.
For more information visit vivierpharma.com
Photos, samples, interviews or additional information
Jennifer Thomson
450-455-9779 ext 125
jenniferthomson@vivierpharma.com