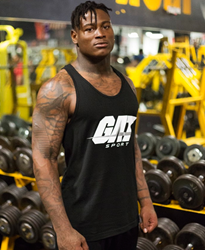 "I'm excited to join TeamGAT. They have a lot of amazing athletes here. I'm ready to get even more RIPPED with GAT supplements. Adding strength and keeping speed is KEY!"
Monroe, CT (PRWEB) May 25, 2017
GAT SPORT, maker of the hugely popular, clinically studied NITRAFLEX® and PMP™ pre-workouts as well as Jetfuel® brand of weight management products, is proud to announce signing Pro Football Linebacker Reuben Foster as TeamGAT Athlete to a multi-year endorsement contract.
President & CEO Charles Moser says, "GAT Sport is thrilled to have such a talented, accomplished football player at TeamGAT. With Reuben on board, we are once again redefining GAT Sport to the world as The World's Most Powerful Lineup."
Reuben "Ferrari" Foster has amazing sports credentials. He's a widely respected and equally feared football linebacker for the San Francisco 49ers. At 6' and 229 lbs., he's noted for his aggression and vicious hitting, alpha mentality, speed and agility. Pro football analysts describe him as big, fast, strong, explosive, and the complete package at the linebacker position.
His story is a true example of overcoming overwhelming odds to turn pain into strength. With an extremely tough childhood, Reuben took out his aggression in the weight room and on the football field. The Alabama native went on to become USA Today High School All-American in 2012, an ESPN four-star recruit, and the No. 1 linebacker of his class in the nation.
Reuben committed to the University of Alabama and went on to build an impressive collegiate résumé: 3 SEC Championships (2014, 2015, 2016), helped lead the Tide to a 2015 National Championship, and was named First-team All-SEC his senior season (2016). He won the coveted Butkus Award in 2016, cementing his reputation as top linebacker.
In the 2017 Pro Football Draft, Foster was a first round pick by the San Francisco 49ers. Simultaneous with the draft, Reuben signed with GAT Sport. It's just the beginning for this rising collegiate star, as he becomes a household name in Pro Football.
Reuben sums it up in his hard-hitting style: "I'm excited to join TeamGAT. They have a lot of amazing athletes here. I'm ready to get even more RIPPED with GAT supplements. Adding strength and keeping speed is KEY!"
About GAT
Since 1997, GAT Sport has been researching, formulating and distributing the highest quality sports nutrition supplements for male and female athletes, bodybuilders and fitness and health enthusiasts. Leading products include JetFuel, Nitraflex, PMP, JetMass and its newest Ready to Drink products PMP and NitraFlex 10 oz. GAT Sport products are available in over 7,500 brick-and-mortar and online retailers in the United States as well as over 45 countries worldwide.
Charles Moser, President & CEO, has over 20 years experience in training and supplementation formulation, design and marketing. Under Moser's leadership, GAT Sport creates edgy, forward-looking products that propel the industry. Designing with clinically researched ingredients and university studies, he produces and markets clinically tested, efficaciously dosed formulas that become legendary. Charles is diversifying this highly respected global brand with high-energy workout products and those for repair and recovery after training plus general health & fitness. He drives TeamGAT to compete harder every day and on every level.
Mark Post, Vice President, has over 25 years in the nutrition and wellness industry with respected brands Met-Rx, Atkins, Garden of Life and more. Mark is dedicated to creating and nurturing strategic retail alliances. At GAT Sport, he has created and refined many new premium sports supplements that inspire athletes and fitness enthusiast to live healthy, active lifestyles and reach their fitness goals. All while building supplementation's most professional, high performance sales team.
For more information about GAT SPORT and Reuben Foster, please visit https://teamgat.com/athletes/
and nfl.com/draft/2017/profiles/reuben-foster/
Contacts:
GAT Sport
Mark Post
Email: mpost(at)teamgat(dot)com
Reuben Foster
@ReubenFerrariFoster
facebook.com/ReubenFerrariFoster/ (3495 Followers)
twitter.com/ferrarifoster/ (52K followers)
instagram.com/ferrarifoster/ (103K Followers)
###