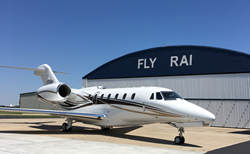 The Cessna Citation X is the fastest, largest aircraft in our fleet, perfect for customers who want to fly coast to coast nonstop.
Kalamazoo, MI (PRWEB) May 25, 2017
The newest addition to Kalamazoo-based RAI Jets LLC's air charter fleet is not only one of the fastest jets in the world, but a famous one as well. RAI Jets LLC recently acquired a Cessna Citation X aircraft, formerly owned by famous record-breaking aviator Steve Fossett. The super mid-size, mechanical marvel is known for its Mach .935 (MMO) maximum speed. In 2003, Fossett used the jet to break the speed record for flight from San Diego to Charleston, South Carolina in under three hours, at an average speed of 726.83 mph. The Citation X still remains one of the fastest civilian jets available for business and charter travel.
"For our charter customers, time is of the essence. The new jet is the fastest, largest aircraft in our growing fleet and perfect for customers who want to fly coast to coast nonstop," said David Riley, Director of Operations at RAI Jets. "With its 2,800-mile range and top speed, it's built for distance, and can usually get our passengers there faster than most commercial airlines."
The Citation X seats eight passengers and is ideal for team meetings or group outings. The aircraft is three feet longer, 100 miles per hour faster and has 1,000 miles more range than mid-size jets.
RAI's Citation X contains ample storage for golf clubs, luggage or sporting equipment. Inside, the Citation X was built for luxury and comfortable travel with oversized, premium leather seats, convertible tables and HDMI inputs.
"Like any charter flight, a trip on the Citation X is the ultimate in luxury and quality," said Riley. "Our customers never tire of flying on their own schedule with plenty of comfort and privacy onboard." Riley also believes private transportation is becoming less of a luxury and more of a necessity to get more done in a shorter period of time. "Charter flights are an investment in improved efficiency, with the ability to increase one-on-one time with clients and raise employee morale by decreasing travel time and offering greater comfort during travel," he said.
RAI is now accepting charter flights on the Citation X out of KAZO (Kalamazoo/Battle Creek International Airport). To learn more or get a flight quote, visit http://www.flyrai.com.
ABOUT RAI JETS
RAI Jets, LLC provides charter jet service to individuals and businesses for business or leisure. RAI Jets has access to over 5,000 airports nationwide with an impressive fleet of aircraft to suit any company's passenger needs. They also offer aircraft management and acquisition service. For more information on RAI Jets, visit http://www.flyrai.com or call (800) 247-2834.