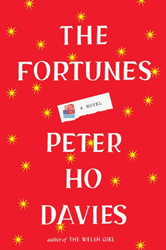 I'm so honored and heartened by this award, honored to become a part of Chautauqua's long literary tradition, and heartened that a book about the struggles of Chinese immigrants resonates with contemporary readers.
Chautauqua, N.Y. (PRWEB) May 23, 2017
Chautauqua Institution is delighted to announce "The Fortunes" (Houghton Mifflin Harcourt) by Peter Ho Davies as the 2017 winner of The Chautauqua Prize.
As author of the winning book, Davies receives $7,500 and all travel and expenses for himself and his family for a one-week summer residency at Chautauqua from July 8 to 15, 2017. A public reading will take place at 3:30 p.m. Wednesday, July 12, on the Institution's southwestern New York grounds.
Davies said he first came across the term "Chautauqua" as a college student reading Robert Pirsig's "Zen and the Art of Motorcycle Maintenance" in a class on the philosophy of science.
"In a rare case of a jacket blurb coming true it really did 'change my life.' I was a physics major, at the time, with mostly suppressed literary ambitions but Pirsig's passionate fusion of the literary and scientific, of feeling and thought, was one of the things that inspired me to return to writing," Davies said. "It means a lot to me all these years later, and shortly after Pirsig's death, to win The Chautauqua Prize. … I'm so honored and heartened by this award, honored to become a part of Chautauqua's long literary tradition, and heartened that a book about the struggles of Chinese immigrants resonates with contemporary readers."
"The Fortunes" recasts American history through the lives of Chinese Americans and reimagines the multigenerational novel through the fractures of immigrant family experience. Chautauqua readers applauded Davies' "extraordinary writing about a timely issue of otherness," calling the novel "emotionally engaging and a clear, poignant account." Particularly lauded were Davies' characters, who, one reader said, "won my empathy, as I grieved and cheered them on in their unflagging search for identity and home."
Chautauqua Institution President Michael E. Hill said Davies' work is will be featured during a week when the Chautauqua community will be examining the theme "A Crisis of Faith?"
"We are thrilled to shine a national spotlight on Peter's latest work by presenting our highest literary honor, The Chautauqua Prize," Hill said. "It is very fitting that, during his visit, our community will be engrossed in questions of identity, religion and community."
Davies is the author of two novels, "The Fortunes" (also winner of the 2017 Anisfield-Wolf Award in Fiction) and "The Welsh Girl" (long-listed for the Man Booker Prize), and two short story collections, "The Ugliest House in the World" (winner of the John Llewelyn Rhys Prize) and "Equal Love" (a New York Times Notable Book). His work has appeared in Harper's, The Atlantic, The Paris Review, The Guardian and The Washington Post, among others, and has been widely anthologized. In 2003 Granta magazine named him among its Best of Young British Novelists.
Davis is also a recipient of fellowships from the Guggenheim Foundation and the National Endowment for the Arts, and is a winner of the PEN/Malamud Award. Born in Britain to Welsh and Chinese parents, Davis has taught at the University of Oregon and Emory University, and is currently on the faculty of the Helen Zell MFA Program in Creative Writing at the University of Michigan in Ann Arbor.
The Chautauqua Prize, this year awarded for the sixth time, is an annual prize that celebrates a book of fiction or literary/narrative nonfiction that provides a richly rewarding reading experience and honors the author for a significant contribution to the literary arts. Previous winners include "The Sojourn," by Andrew Krivak (2012); "Short Nights of the Shadow Catcher," by Timothy Egan (2013); "My Foreign Cities," by Elizabeth Scarboro (2014); "Redeployment," by Phil Klay (2015); and "Off the Radar," by Cyrus Copeland (2016).
Details on The Chautauqua Prize are available online at ciweb.org/prize. Books published in 2017 will be accepted as submissions for the 2018 Prize beginning in September 2017.
About Chautauqua Institution
Chautauqua Institution is a community on the shores of Chautauqua Lake in southwestern New York state that comes alive each summer with a unique mix of fine and performing arts, lectures, interfaith worship and programs, and recreational activities. As a community, we celebrate, encourage and study the arts and treat them as integral to all of learning, and we convene the critical conversations of the day to advance understanding through civil dialogue.
The Literary Arts at Chautauqua Institution
With a history steeped in the literary arts, Chautauqua Institution is the home of the Chautauqua Literary and Scientific Circle, founded in 1878, which honors at least nine outstanding books of fiction, nonfiction, essays and poetry every summer. Further literary arts programming at Chautauqua includes summer-long interaction of published and aspiring writers at the Chautauqua Writers' Center, the intensive workshops of the nationally recognized Chautauqua Writers' Festival, and lectures by prominent authors on the art and craft of writing.