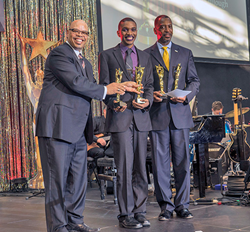 Suitland, MD (PRWEB) May 23, 2017
Actors, actresses, crew, friends, family and special guests all came together for a gala event celebrating the best in US Army Entertainment Theaters across Europe during the 2017 season. There were 73 awards and 189 nominations, and more than 520 audience members on hand to witness the event.
This year's Toppers Awards, sponsored by Andrews Federal Credit Union, were held for the first time at U.S. Army Garrison Wiesbaden in the event's 22-year history. They showcased the best and brightest from theater programs across Europe.
"Everyone who has contributed to one of this year's entries is already a highly valued member of a winning team," said Michael D. Formica, Installation Management Command Europe director, as he welcomed the guests and nominees to the event. "Your talent, dedication and hard work enrich us all. On behalf of the total Army Europe, Air Force, and international families, I thank you for providing top-quality entertainment events in the tournament and throughout the year. Congratulations to all of you for a job well done."
Dane Winters, IMCOM Europe entertainment director and one of the evening's masters of ceremonies, said this year's Toppers competition was one of the best he has seen, and hardest for the judges to pick winners.
About Andrews Federal Credit Union
Andrews Federal Credit Union was founded in 1948 to serve the needs of military and civilian personnel by providing a vast array of financial products and services. With over $1.5 billion in assets, Andrews Federal has grown to serve more than 120,000 members in the District of Columbia, Joint Base Andrews (MD), Springfield, Virginia (VA), Joint Base McGuire-Dix-Lakehurst (NJ), and military installations in central Germany, Belgium, and the Netherlands. In addition, the Credit Union serves as a financial partner with many select employee groups in Maryland, the District of Columbia, Virginia and New Jersey.
To learn more about Andrews Federal Credit Union and its community involvement, or to become a member, call 800.487.5500 or visit http://www.andrewsfcu.org.