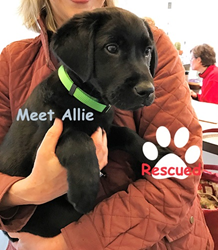 "Dogs can make a whole difference in these people's lives," - Nancy Teague
Brewster, NY (PRWEB) May 25, 2017
Putnam Service Dogs introduced its first three puppies that will begin training to become service dogs. The puppies all came from high kill shelters and were adopted from local rescue groups. The first classes started Thursday, April 27th.
The puppies have been placed with carefully selected Volunteer Puppy Raisers
Anna is a 12-week-old yellow lab mix that was rescued from Puerto Rico and flown up by PawSafe, a rescue group in Danbury. Amy, a 9-week-old shepherd mix, was rescued in Alabama and flown up by Happy Life, a rescue group in Patterson. Allie, a 12-week-old black lab mix, was rescued from Mississippi and flown up by ROAR, a rescue operation for animals in Ridgefield. "We're pretty excited," said Nancy Teague, who started Putnam Service Dogs.
"Dogs can make a whole difference in these people's lives," Teague said. "People with disabilities tend to be quite isolated, but with a service dog, they become more approachable. Service dogs allow people to be more independent. The dogs can help them pick up dropped items, turn lights on and off and get dressed. It takes a lot of burden off of the family," Teague said.
"Service dogs need to be very confident, friendly and focused. Most dogs are not able to be service dogs. Dogs are trained to meet the unique needs of the person they are serving. They have to have a work ethic," Teague said.
About Putnam Service Dogs:
Located in Brewster, New York (Putnam County), Putnam Service Dogs rescues select puppies from high kill shelters and trains them to be service dogs. Having been in the service dog industry for the last decade, Nancy Teague founded the organization last fall based on a pressing need for more service dogs. Those in need of a service dog or interested in donating to the center may visit http://www.putnamservicedogs.org.
Contact:
Nancy Teague, Founder
917-449-5359
info(at)putnamservicedogs(dot)org