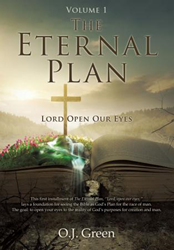 To help them see that He created us for so much more than the conditioning we have received here on earth
Olympia, WA (PRWEB) May 25, 2017
O. J. Green's new book, The Eternal Plan Volume 1 ($16.49, paperback, 9781498494823; $8.99, E-book, 9781498494830) "Lord Open Our Eyes," is the first volume in "The Eternal Plan" series, which is part of the Wisdom Project. This is an aggressive project based on the cross and crown. The goal, continuing God's purpose of encouraging and equipping those in Christ. In times of uncertainty, we see many running here and there, trying to fill the void of a meaningless life. They feel hopeless in a lost and dying world. Many seeking answers, asking, "why am I here", and "what is the meaning and purpose for my life." Is life more than they have led us to believe? In "Lord Open Our Eyes" Green presents a fresh perspective with hope. In it he reveals God's eternal plan to restore the fallen race of Adam and creation back to His original purpose.
Green writes, "My hope is to open the reader's eyes to a new perspective, and worldview on the Word of God. To help them see that He created us for so much more than the conditioning we have received here on earth. To help them see the Bible is not of earthly origin, but a gift containing the message of life from our Heavenly Father. He gave it to help us, His children, find the way home."
O.J. Green brings to the table a sincere love for the Father, the Son, the Holy Spirit and the saints. He believes the Lord has called and commissioned him to a ministry of encouraging His children, and to show them from the Word that "in Christ" we are no longer in the old man Adam 1.0. Instead, "In Him," we now exist in the new state, Adam 2.0, which is the new man, who is a new creation in Christ. Green believes that through the work of the Holy Spirit, He is equipping him to complete a series of books that he call the "Wisdom Project."
Xulon Press, a division of Salem Media Group, is the world's largest Christian self-publisher, with more than 12,000 titles published to date. Retailers may order The Eternal Plan Volume 1 through Ingram Book Company and/or Spring Arbor Book Distributors. The book is available online through xulonpress.com/bookstore, amazon.com, and barnesandnoble.com.
Media Contact: O.J. Green
Email: ojmasplan(at)comcast(dot)net