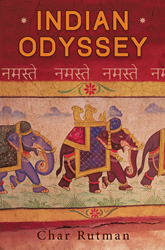 Surely we met somewhere, no?
Roseville, MN (PRWEB) May 30, 2017
From the American Land of 10,000 Lakes to the Indian City of Lakes, Char Rutman's incredible journey is presented in vibrant colors and filled with local flavor. Indian Odyssey is the compilation of years of author Char Rutman's journaling and diary entries, written in a 3rd person autobiography. Begun during her travels, her story comes to us now with the insight offered by looking back on everyday events and realizing that they have created an extraordinary life.
Readers will see that like Rutman, after 38 years of an unhappy life, one can make a major change and find fulfillment, even in another country and a different culture. It is never too late to live an extraordinary life, it just takes belief and courage. Readers will be fascinated with Rutman's descriptions of places and the people in India.
"We have met before," [the guide] said.
"No. I have never been to Udaipur."
"But surely we met somewhere, no?"
"No, we have never met.
. . .
"I feel that we have," he said again.
About the Author
Char Rutman was born in St. Paul, MN, where she lived for the early part of her life. After six years as an operating room nurse, Rutman married and eventually raised four sons in Duluth, MN. After a short time as a travel agent—having enjoyed travel over much of the world—she went to live in India, where she enjoyed the people and their culture, eventually returning to the US after eighteen years. Indian Odyssey is her story.
For more information, contact her at: ruth.charlotte(at)yahoo(dot)com