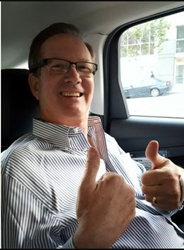 When you watch someone in the OR, a fellow doctor like me can tell instantly what his skill level is. In Michael Lazar's case, he is as good as one can get...
Santa Rosa, CA (PRWEB) May 24, 2017
It's the news no man wants to hear from a doctor, "…you have prostate cancer." And when you are a practicing physician who receives this news, all the more room for concern. Dr. Robert Pugach, medical director of Pacific Coast Urology Medical Center was diagnosed with prostate cancer last year and opted to undergo HIFU treatment with urologist and prostate cancer specialist Dr. Michael Lazar of California HIFU earlier this month. What transpired is truly an inspirational account of one man's journey from diagnosis to cure. Dr. Pugach has chronicled his experience in a series of blog posts featured on the HIFU Prostate Services Website.
Following a cancer diagnosis by an internist and a follow-up biopsy with Dr. Lazar, Dr. Pugach opted to forgo the wait and watch approach most commonly prescribed for men testing with low levels of PSA. "I'm not a gambler, especially when it comes to my health," he says. "I plan to live a long, healthy life."
As a prostate cancer expert himself, Dr. Puach was all too aware of the potential for permanent urinary incontinence and erectile dysfunction with more conventional treatments, and was adamant about avoiding radiation due to the likelihood of a cancer recurrence in the future. Bolstered by his own experience with HIFU combined with positive results viewed first-hand with his own brother who underwent HIFU almost a decade earlier, Dr. Pauch was in the perfect frame of mind for pursing HIFU for himself.
In the weeks leading up to the procedure with Dr. Lazar, Dr. Pauch reasoned that there was absolutely nothing to fear, having been diagnosed early and having confidence in his doctor gave him a sense of empowerment over the disease.
"I had complete and total confidence in my doctor. I had the luxury of knowing Dr. Lazar well for 10 years when we travelled out of the country with our patients to treat their cancers with HIFU. When you watch someone in the OR, a fellow doctor like me can tell instantly what his skill level is. In Michael Lazar's case, he is as good as one can get and is a true professional," he explains.
HIFU: Non-invasive Treatment for Prostate Cancer
HIFU is a FDA approved precise and targeted therapy for the treatment of prostate cancer, that reduces the risk of complications caused by surgery and radiation. HIFU uses ultrasound energy, or sound waves, to heat and destroy specifically targeted areas of tissue. During HIFU, the sound waves pass through healthy tissue without causing damage. At the focal point of the sound waves (like a magnifying glass focusing the rays of the sun to burn a leaf), the tissue temperature is raised only high enough to destroy the targeted tissue.
"Although recommendations are that most men opt to wait and watch when diagnosed with prostate cancer, HIFU is a treatment that is most effective for men who have early stage, localized prostate cancer that has not spread or metastasized outside the prostate," explains Dr. Lazar. "As with Dr. Pugach the results are most promising when the cancer is caught while it is at the early, more treatable stage. That means; taking action relatively soon following the diagnosis."
A happy ending to a terrifying diagnosis
On May 9th Dr. Pugach took a taxi to the San Francisco Surgery Center where Dr. Lazar performs HIFU. There the new patient was greeted by "… a wonderful and caring staff." A short four hours later, the procedure is over and Dr. Lazar reported to the patient that all is well. "Dr. Lazar told me my procedure went perfectly – good words to hear!"
As most HIFU patients report, Dr. Pugach says there was no pain following the procedure and recovery was swift. "I learned that what I had always told my patients about how good they would feel afterwards was now proven to me to be true. Instead of having the common side effects of radical surgery, or contemplating seven weeks of radiation, I felt great…"
Dr. Pugach says he knows how good it feels to have a potentially serious or lethal disease diagnosed at a stage where it is less frightening to deal with. "I've learned how wonderful and enduring a good doctor-patient relationship can be and how a good bedside manner does more than many medications in helping a patient feel good."
The moral of this story may well be to consider all of the options when dealing with prostate cancer, and although the temptation might be to put off routine screenings, early diagnosis might just save your life.
"Screening for prostate cancer is a simple process that allows us to look for cancer before any symptoms become obvious to the patient," explains Dr. Lazar. "This process can help us discover the cancer at an earlier stage while the patient has the opportunity to take advantage of newer, less invasive options for treating prostate cancer such as HIFU."
About California HIFU and Dr. Lazar
Dr. Michael Lazar is the only Northern California physician recognized as a leader in the use HIFU for prostate cancer. He has been successfully treating patients with HIFU since 2007. Dr. Lazar formed California HIFU in order to offer minimally invasive prostate cancer treatment to men with the Sonablate. For more information about HIFU treatment or to make an appointment call: (707) 546-5553 or visit the California HIFU website.
----
Dr. Pugach's full story "When The Doctor Becomes A Patient" may be viewed online in an ongoing series on the HIFU Prostate Services Website.