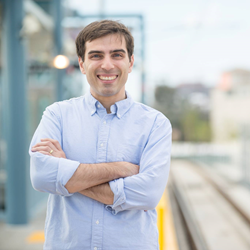 We are excited to have Jesse involved in our continued efforts to advocate for housing homeless veterans in Los Angeles
Los Angeles, CA (PRWEB) May 24, 2017
The Board of Directors of Vets Advocacy is pleased to announce the appointment of Jesse Creed, a key attorney for the class of homeless and disabled veterans in the Valentini v. Shinseki litigation and counsel to Vets Advocacy from its inception, as Executive Director of the organization. The appointment will be effective June 1, 2017.
"We are excited to have Jesse involved in our continued efforts to advocate for housing homeless veterans in Los Angeles," said Dan Garcia, the Chief Executive Officer of Vets Advocacy. "We've appreciated Jesse's commitment, dedication, and perseverance in seeking to fulfill the VA's promise revitalize the West LA VA campus, his ability to organize and activate people in the community, and his creativity and innovation in coming up with legal solutions to intractable and systemic problems. Jesse is also fearless in his efforts to implement systems accountability, which is a core part of the mission of Vets Advocacy, and do what's right for our nation's veterans."
With a clearly established record of advocating for Los Angeles' veterans, Creed has been involved in the activities of Vets Advocacy since its formation. Creed has played a key role in advocating for the Draft Master Plan adopted by Secretary Robert McDonald in January 2016, the passage of the West Los Angeles Leasing Act of 2016, and the creation of the Los Angeles Region Community Veterans Engagement Board. Creed is currently the Co-Chair of the Los Angeles Region – Community Veterans Engagement Board and a member of the West LA VA Master Plan Communications Subcommittee, and he was previously a Special Advisor to Vets Advocacy.
"I'm very honored and excited to be part of this incredible veterans organization. Vets Advocacy has put a new face to VA systems accountability and has delivered real results, from the Draft Master Plan for the revitalization of the West LA VA campus to the West Los Angeles Leasing Act of 2016. I look forward to working with Vets Advocacy to expand the activities of the organization so as to fulfill its mission of providing a home for every veteran in LA County."
In his role as Executive Director, Creed will oversee the organization's policy and legal advocacy programs related to the West LA VA Master Plan and homeless veteran housing, engage with diverse constituencies, stakeholders, and strategic partnerships in Los Angeles and Washington, D.C., and build up the capacity of the organization.
About Vets Advocacy:
Vets Advocacy is a privately funded, non-profit organization facilitating revitalization of the U.S. Department of Veterans Affairs West Los Angeles campus as a condition of the Valentini v. Shinseki settlement.
Contact:
Anthony Allman
Director of Outreach
424-348-0083
Email: anthony(at)vatherightway(dot)org