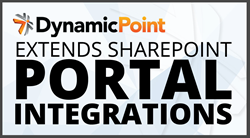 The SharePoint Portal product design is quite unique because it supports all Microsoft Dynamics ERP and CRM objects that are able to be exposed using web services.
Long Beach, CA (PRWEB) May 24, 2017
DynamicPoint Inc., a developer of Microsoft SharePoint applications that extend the functionality of Microsoft Dynamics, released version 2.0 of its SharePoint Customer, Vendor and Employee Portal applications. This release is a significant milestone as it includes the full transition to a SharePoint Add-In that will deploy to either SharePoint Office 365 or On Premise and also extends the compatibility of the product to include Dynamics 365, AX and CRM.
"The product design is quite unique because it supports all Dynamics objects that are able to be exposed using web services," states Kiril Genov, the product architect. This flexibility supports the publishing of virtually any information from Dynamics 365, AX, GP, NAV and CRM to a SharePoint Portal. Typical portal use cases allow organizations to share sales orders with customers, purchase orders with vendors, or HR information with employees, all available with basic configuration. These endless options are best encapsulated by insight from Kellie Cooper, an Implementation Consultant at DynamicPoint, "our customers appreciate the flexibility in extending an endless amount of mission critical data from Dynamics to the Portal for 24/7 self-service access. For an even bigger win we can layer in the option for site visitors to make edits that are flowed directly back into Dynamics further reducing customer support costs and delivering a tremendous lift in customer satisfaction."
With this new release comes an updated pricing model that encourages customers to extend as much information as they desire with customers, vendors and employees. For example, if a customer is already collaborating on jobs with clients and wants to offer insight to inventory levels, this addition comes with no impact to the SharePoint Portal product licensing fees.
About DynamicPoint:
DynamicPoint develops products that leverage the Microsoft SharePoint platform to integrate and enhance return on investment in Microsoft Dynamics ERP and Microsoft Dynamics CRM systems. In addition to cost effective, out-of-the-box products for portals, employee expense, requisition management and invoice automation, DynamicPoint also offers organizations the ability to customize a fully integrated solution to meet unique business requirements. The company's mission is to help customers maximize productivity, improve access to information, enhance communication and collaboration inside and outside the office, and to provide additional revenue opportunities within their marketplace.