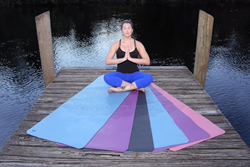 My mat is my canvas, and yoga is my art
Tampa, Fl (PRWEB) May 25, 2017
Up until recent years, there was only one type of yoga mat and the only choice was blue or pink. Now, there is a yoga mat perfectly suited to every preference and style.
There is so much more to a yoga mat than color choice. A yoga mat needs to keep the user stable during difficult poses. It should be comfortable and supportive for their joints. It should be easy to clean and easy to put away when not in use. Some yogis may also desire to have a mat that is environmentally friendly.
Clever Yoga has designed a perfect yoga mat for every yoga practitioner – no matter their practice, lifestyle, values or budget. All mats are high quality and backed up by a special Namaste warranty.
The LiquidBalance Mat
Clever Yoga's LiquidBalance mat is the highest quality yoga mat available. This mat is not your average yoga mat. It offers superior grip, comfort, support and durability that other mats cannot offer. The LiquidBalance mat is extra-long and extra-wide making it a perfect fit for all yogi bodies. It features 4.5 mm of non-toxic natural tree rubber thickness to support joints and provide the perfect amount of resilience. This mat is perfect for the yogi who values quality and comfort. The cost is higher than a standard yoga mat, but this mat will last a lifetime and be well worth the investment.
The Liquid Balance Travel Size
The LiquidBalance yoga mat also comes in a convenient travel size that has the same features but is thinner and lightweight - perfect for yogis on the go. It rolls up quickly and works great as a mat topper in the yoga studio or any other destination.
The BetterGrip Yoga Mat
Clever Yoga knows that not everyone is ready to invest in a premium yoga mat, but that shouldn't mean that there shouldn't be a high quality mat available to keep them safe and comfortable during their yoga sessions. The BetterGrip yoga mat is easy on the wallet but still well constructed and durable. This mat is perfect for yogis who want a high quality mat for an affordable price.
The Natree Yoga Mat
Clever Yoga also offers a Natree yoga mat that hits the sweet spot in between the BetterGrip and the LiquidBalance mats. The Matree yoga mat offers comfort and support while also providing a slip resistant surface with optimum grip. As with all Clever Yoga mats, the Natree mat is completely eco-friendly with no PVC or latex materials.
The YogiOnTheGo Travel Mat
Now available on pre-sale is the revolutionary travel yoga mat that can be thrown directly into the washer and dryer. It is foldable and designed to fit into most backpacks at only 2 pounds. This mat is waterproof, extra grippy and eco-friendly.
No matter what the preference, style and budget, Clever Yoga has a yoga mat that is perfect for all Yogis.
About Clever Yoga
Clever Yoga is an innovative woman-owned and operated company, based in Tampa, Fla.
Clever Yoga aims to offer superior, reliable products that make a difference in customers' lives. The Clever Yoga team uses meticulous market research and strict quality control and testing to create high-quality products.
Recently, the company has launched an online store using the largest online retailer, Amazon, as their platform. CleverYoga's online store can be found on Amazon.
Established in 2014, Clever Yoga's mission is to provide reliable, high quality yoga equipment, as well as excellent customer care.