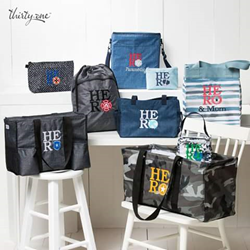 Columbus, OH (PRWEB) May 24, 2017
Heroes Recognized with New Thirty-One Gifts Personalization
Direct-selling company Thirty-One Gifts is providing a way to recognize heroes with a new HERO personalization option. The new design includes the word "HERO" with an emblem representing military, police, fire, EMT and everyday heroes, as well as new personalization featuring American and Canadian flags.
Thirty-One Gifts is one of the world's largest direct-selling companies, and offers purses, wallets, totes, home organization solutions and décor, thermal bags, jewelry and more. The new HERO personalization is available on most of their products, including pillows.
The personalization was released this month. May is Military Appreciation Month and includes Memorial Day as well as International Firefighters Day and National Police Week. The American flag embroidery comes in time for Independence Day as well. All emblems may be used individually or with the HERO personalization.
Thirty-One has published a video, posted at You Tube, celebrating heroes entitled "Who's Your Hero?" It is available at https://www.youtube.com/watch?v=JBjua00mV6Q. The video includes a definition of the word hero as "a person who is admired or idealized for courage, outstanding achievements, or noble qualities." It features children and adults celebrating their personal heroes – a teacher, firefighter, father and mother, military and coach.
The company is encouraging use of the hashtag #CelebrateHeroes as part of its hero campaign, and is encouraging people to recognize their everyday heroes and share on social media. They've set an example by delivering totes full of treats to all 58 police and fire station in Columbus, Ohio, where they are headquartered.
Thirty-One is dedicated to celebrating and supporting families. In addition to the HERO recognition, every product purchased from Thirty-One goes toward supporting nonprofit organizations through the company's philanthropic initiative, Thirty-One Gives. This year, Thirty-One Gives will donate approximately 5% of net total sales in product and cash to support nonprofit partner organizations with a shared mission to support girls, women and families. To-date they've donated more than $100 million in product and cash to nonprofit organizations that share their mission.
Thirty-One products are sold by independent sales consultants throughout the U.S. and Canada. Information about finding a consultant, as well as a current catalog, can be found at their website: http://www.mythirtyone.com.
About Thirty-One Gifts
Thirty-One is a family of individuals who share a passion for empowering women, and who are committed to celebrating, encouraging and rewarding others for who they are. The name Thirty-One Gifts comes from Proverbs 31, of the Bible, which describes the attributes and the importance of a "virtuous woman." With a mission to help women by giving them the opportunity to own their own businesses, Thirty-One provides all the tools and support necessary to find success and possibly build a new career. Cindy Monroe started Thirty-One in her basement in 2003. From those humble beginnings they've grown to include more than 1,000 employees and nearly 72,000 independent sales Consultants across the U.S. and Canada – many of whom are reaching their dreams through this opportunity.
# # #
Date: May 23, 2017
Contact: Sara West, Senior Manager, PR
614-414-4900
swest(at)thirtyonegifts(dot)com