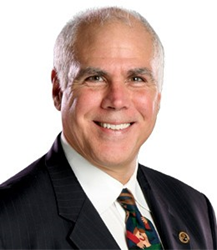 Redmond, WA (PRWEB) May 24, 2017
Technology is becoming ubiquitous in today's classrooms—but mere access to state-of-the-art educational technologies will not automatically transform teaching and learning. Despite the billions of dollars spent yearly equipping classrooms with educational technologies, its impact on student learning has been both meager and unchanged after nearly half a century. Why are we continuing to fund, at considerable cost and effort, classrooms that are digitally rich but innovatively poor?
Dr. Sonny Magana has compiled four decades of ground-breaking research resolving the wicked problem of effective technology integration into his new book, Disruptive Classroom Technologies: A Framework for Innovation in Education, which is being hailed by global educational experts.
Disruptive Classroom Technologies promises to disrupt the current low-value uses of classroom technologies with a new T3 framework that advances instructional innovations with technology to maximize student learning productivity. T3 helps educational systems categorize students' learning with technology as Translational, Transformational, or Transcendent, sorting through the low-value applications to reach high-value, high-impact usage of readily available classroom technologies.
"When it comes to technology in the classroom, we are simply not getting our money's worth in terms of unleashing students' limitless learning potential," says Dr. Magana, founder of Magana Education. "That hurts us all, by underserving our most precious natural resource—our youth. That's why I'm committed to helping modern educational leaders and educators follow the direction provided by quality research evidence and innovate rather than simply digitizing their classroom practices."
Schools who use the elements in the T3 Framework have seen dramatic gains in instructional quality and student learning performance. "I have personally observed the power of Sonny's work in our own school district," says superintendent Brian Pearson. "Gaylord Community Schools has embraced the T3 framework and as a result is a better place for students to learn and staff to teach."
Disruptive Classroom Technologies: A Framework for Innovation in Education is now available through Corwin Press, Amazon, and Barnes & Noble.
High Praise for Disruptive Classroom Technologies:
"Sonny Magana has made a significant contribution to innovation in education with his important book, Disruptive Classroom Technologies, and the T3 Framework. Moving beyond translation and transforming current practice to transcendent uses of technology is clearly where we should go. We need to build collaborative communities of students solving problems, explaining to others (regardless of ability) and using the social media aspects of technology to change classroom conversations from monologue to dialogue, increasing student impact questions, and allowing errors to be stated and dealt with – this can be so transcendental. This is the core of Magana's claims, and indeed this is how we'll see technology really make the difference we're after!"
—John Hattie, Laureate Professor, Deputy Dean of MGSE,
Director of the Melbourne Education Research Institute
Melbourne Graduate School of Education
"Dr. Sonny Magana is a visionary leader regarding what education can be if we truly embrace the potential of technology. Unfortunately, the bright promise of technology is still in the distance, somewhere on the horizon. If one views schools and schooling through the lens of Magana's framework, though, that horizon can become clearer, more attainable, and more inspirational."
—Robert J. Marzano, Ph.D., Chief Academic Officer
Marzano Research
Author The Art and Science of Teaching
"The T3 Framework is a brilliant breakthrough in our understanding and use of technology for learning. Sonny Magana clearly portrays the nature and difference between translational, transformational, and transcendent use of technology. The identification of transcendent use is itself an innovation. On top of all this he shows us how to navigate through the T3 system with guiding questions, prompts, and rubrics. For those of us working on the frontier of deep learning Disruptive Classroom Technologies, and the T3 Framework is a much needed gift."
—Michael Fullan, Ph.D., Professor Emeritus
OISE/University of Toronto
Author Leading in a Culture of Change
"Fresh, innovative, and revolutionary, Magana's T3 Framework promises to challenge the status quo and invite disruptive practices in educational technology. Enhancing social entrepreneurship with technology, as the final stage of Magana's framework for technology use in education, is a powerful proposal and a compelling vision worth pursuing by all educators."
—Yong Zhao, Ph.D., Foundation Distinguished Professor
University of Kansas co-author Never Send a Human to Do a Machine's Job: Correcting Top 5 Ed Tech Mistake
About Dr. Sonny Magana
Dr. Sonny Magana is an award-winning educator, best-selling author, and pioneering educational technology researcher. Sonny is a highly sought-after leadership consultant and instructional coach with more than thirty years' experience helping educational systems around the world realize the power of transcendent learning.
A tireless advocate for transcending the status quo, Sonny is a recipient of the prestigious Milken Family Foundation National Educator Award and the Governor's Commendation for Educational Excellence. An avid musician, yoga practitioner, and beekeeper, Sonny holds a bachelor of science degree from Stockton University, a master of education degree from City University (where he was honored with the Presidential Award for meritorious scholarship), an educational administration endorsement, and a doctorate in educational leadership from Seattle University. http://www.maganaeducation.com