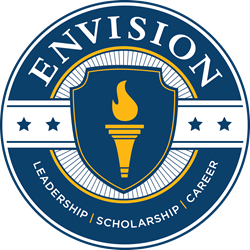 VIENNA, Va. (PRWEB) May 24, 2017
Envision, a leading experiential education organization, today released "Generation Now," a report summarizing the voices of student scholars who attended Envision's Presidential Inauguration Leadership Summit, which was held the week of January 18-22, 2017 in Washington D.C.
The "Generation Now" report is a call to action to engage the younger generation of Americans that still, despite what the press says, have hope as they ask for parent, teacher, and civic leader support and collaboration in improving our collective future. The report represents the non-partisan work of 2,280 students (57% female, 43% male) from 50 states and 30 countries that attended the Summit and collaborated to create real-world solutions to the issues they believe will impact their future. The report has been distributed to the President of the United States and Congressional Leaders and is available for download here.
"While Generation X and Baby Boomers are entrenched in what's to come in the next four years, our young leaders are focused on a broader vision of what their country will look like as they rise up as leaders over the next one to two decades," said Envision's CEO Duncan Young. "This group of young people – which we call Generation Now – knows of the promise and disruption of technology. While they are unsure of how the rise of artificial intelligence will impact the workplace and their own job readiness, they are creative in their ideas to leverage technology innovation towards environmental solutions or to create educational equity across the globe using social media. They say college debt is the number one impediment to their success, but also expressed concern about a range of what they perceive as national security concerns, from school shootings to terrorism overseas. And finally, though they fully embrace technology, they have deep concerns about privacy."
Inspired by an opportunity to witness history at the 58th Inauguration during the Presidential Inauguration Leadership Summit, the scholars worked together in the Delegations for Change competition to win program scholarships and create solutions to the issues they deemed most important to their future, while being inspired from some of the world's most respected influencers, such as General Colin Powell, Spike Lee, and Nobel Peace Prize Laureate Malala Yousafzai. Envision crowd-sourced the topics to discover the topics young people felt would most directly impact their future and asked them to play a role in the Delegation for Change of their choice, including Drones, Clones & Genomes; Curing the Future; Racing Extinction; Imagining Peace; A Smarter Planet; and Pathways to Power. The "Generation Now" report includes the Delegations for Change winning proposals addressing these topics from the college, high school, and middle school delegations.
The impetus to solve problems on a global scale dotted most of the students' papers, from education to business to technology. Free from institutional constraints, the students proposed some innovative and very creative solutions, including:

Advancing students to the next grade based on competency, not age
Providing government funded re-education of workers displaced by technology
Training school personnel, including maintenance staff, on how to handle terrorist situations
Reversing ocean pollution through new technologies, creating a cleaner planet and more jobs
Matching students with teachers based on engagement metrics, not test scores
Introducing music education to increase cognitive skills
Protecting student privacy by mandating drone-free zones above schools
Turning excess food into cleaner conditions in impoverished areas of the world
Creating self-cleaning concrete to reduce the amount of smog caused by vehicle emissions
Bringing the topic of mental illness out into the open to educate and provide assistance for those who need it
Utilizing drones to help in high risk rescue scenarios such as high rise fires
Improving global relations through a moderated agreement between Russia and the U.S.
Using social media technologies to bring Western education to the developing world
"What I've found after reading all the reports are next generation leaders are ready to approach each challenge not with 'can we?' but 'should we?'," said Envision's Chief Academic Officer, Andrew Potter. "This generation is seeing science and technology redefine what it means to be human as a corporation and as a human, and they are already using a modern moral compass to think about global solutions. What's more, and potentially to our surprise, they do not want to operate in silos or hide behind the glowing screens of their tablets. They want to engage, collaborate, and feel connected on a human level to the rest of the world. In an era where artificial intelligence, drones, and globalization are the reality, these future leaders want to keep the American dream alive by maintaining humanity when it comes to problem solving."
About Envision
Envision helps students turn their career and life aspirations into reality. The Envision portfolio of programs (http://www.envisionexperience.com) enables students of all ages to explore their interests and gain learning experience beyond the classroom. Since 1985, Envision programs have served more than 800,000 students from more than 145 countries, with programs designed to connect high aspiring students with the leadership, scholarship, and career skills needed to success in today's competitive college and career landscape; providing unique, real world experiences that enable students to discover their passion, try out a future career, and positively impact the world around them.
# # #