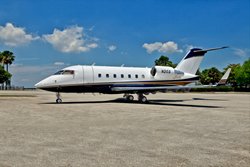 As we continue to expand, we're looking to bring on aircraft that our clients prefer and fit our model in order to provide them with the service they come to expect with Jet Access Aviation
West Palm Beach, FL (PRWEB) May 25, 2017
The addition of these aircraft to their rapidly growing fleet positions Jet Access Aviation as one of nation's fastest growing charter operators. The fleet additions bring their total number of Part 135 aircraft to 23.
The aircraft offer comfortable cabin configurations, state of the art flight decks and the Gulfstream, Falcon and Challenger are capable of coast to coast range. The business jets will also provide unlimited domestic Wi-Fi. The aircraft will be part of Jet Access Aviation's true floating fleet. The Challenger and Lear will be readily available on June 1 for one way, point to point pricing across the country and the Hawker, Falcon and Gulfstream will be available within 30 days.
"As we continue to expand we're looking to bring on aircraft that our clients prefer and fit our model in order to provide them with the service they come to expect with Jet Access Aviation," stated Jack E. Lambert Jr., President at Jet Access Aviation.
Jet Access Aviation is an ARG/US Platinum and Wyvern Approved Florida based charter operator and aircraft management firm adhering to the strictest safety standards. Jet Access helps connect business travelers with easily accessible aircraft and specializes in the floating fleet model which offers one-way private jet charter flights. The company's fleet consists of a variety of aircraft which includes a Gulfstream IV, Citation Sovereign, plus several other Light, Midsize, and Large Jets.
For more information about Jet Access Aviation, visit jetaccessaviation.com or call 866-642-9996.
Media Contact:
Rebecca Boren
Marketing and Media Relations:
561.283.1214
Rboren@jetaccessaviation.com