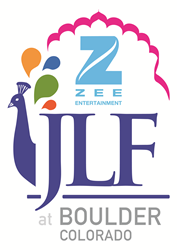 Thought leaders from throughout the world will discuss and debate key issues of interest in 40 sessions throughout three days.
Boulder, Colo (PRWEB) May 25, 2017
The third installation of the ZEE Jaipur Literature Festival (JLF) at Boulder will bring more than 70 authors from around the world to discuss today's hot topics while engaging the community in essential dialogue and debate. The first list of speakers includes authors and thinkers from across the globe:

These and many more authors will present panel discussions, conversations, presentations and performances surrounding various topics of world interest. Specific themes at ZEE JLF at Boulder 2017 will include migration, U.S. gun culture, nature and the environment, Native American rights, yoga/meditation, outdoors-adventure, feminism, constitutions, LGBT, Latino, African American and Native American voices.
More details and confirmed speakers will be announced at jaipurliteraturefestival.org/boulder.
About the ZEE Jaipur Literature Festival at Boulder, Colorado
In its 10th year, the ZEE Jaipur Literature Festival in India is the world's largest free literature festival, drawing some 350,000 footfalls at Diggi Palace in the Rajasthan's capital Jaipur, this past January. The festival serves as a beacon of free speech around the world, and has inspired more than 200 other literature festivals, both in India and other countries. ZEE JLF was recently awarded 'Best Festival' at the Outlook Traveller Awards in India.
Dubbed "the greatest literary show on Earth," ZEE JLF successfully expanded to London in 2014, and selected Boulder as its only U.S. location in 2015. Voted the U.S.'s brainiest (more Ph.D.'s per capita than any other US city) happiest and foodiest city, the Festival was wildly successful in its first two years in Boulder. Festival organizers expect more than 10,000 people to attend this year from throughout the country and around the world.
The 2016 ZEE JLF at Boulder saw close to 7,000 people attending the three-day Festival. Attendees from throughout the U.S. and across the globe experienced an uplifting celebration of the mind and heart, as writers from across the Americas, Asia, Africa and Europe engaged in provocative conversations. Topics of discovery spanned life and society, economics and the arts, equity, freedom and the care of our planet.
ZEE JLF at Boulder takes place at the Main Boulder Public Library, 1001 Arapahoe Ave. A week of pre-events will be held at the Main Boulder Public Library and other locations. There is no admission fee, but attendees must register. For more information, confirmed speakers, and registration, visit jaipurliteraturefestival.org/boulder.
About ZEE Jaipur Literature Festival
Writers and Festival Directors Namita Gokhale and William Dalrymple invite speakers to take part in the five-day program set against the backdrop of Rajasthan's stunning cultural heritage and the Diggi Palace in the state capital Jaipur. Website: http://www.jaipurliteraturefestival.org
The ZEE Jaipur Literature Festival is a flagship event of Teamwork Arts, which produces over 25 highly acclaimed performing arts, visual arts and literary festivals across more than 40 cities globally, and is produced by Sanjoy K. Roy. Website: http://www.teamworkarts.com