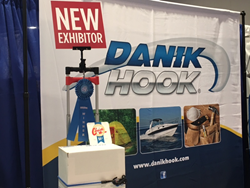 We are honored and very excited about this award!
(PRWEB) May 24, 2017
The Danik Hook, an amazingly simple and easy to use tool to quickly tie-down anything, was selected from some 500 new products as one of the most outstanding and innovative products at the show May 9–11, 2017. The coveted award means the Retailers' Choice selection panel believes the Danik Hook is unique and it has the potential to be a home improvement industry best seller. The Danik Hook will also be featured in a special section of the Hardware Retailing's July, 2017 issue.
"We're pumped. We're excited," said Daniel Austin, the inventor of the Danik Hook. "This confirms our belief that there is a strong need for the Danik Hook, and we're ready to take it worldwide."
The award put an exclamation point on the overwhelming response to the debut of the Danik Hook product line at the National Hardware Show, one of the biggest trade shows in the United States. Talks are now underway with a dozen major independent retailers from six countries, said Greg Spangler, Danik Hook National Sales Manager.
"The response at the National Hardware Show tells us the Danik Hook is something different, something special," Spangler said. "We're not just another screwdriver."
Austin, an avid boater and water skier, originally created the Danik Hook to quickly and easily secure anchor or boat lines without ever having to tie a cumbersome knot. It soon became apparent, however, the Danik Hook could be used any time something needed to be tied-down.
Customers use the Danik Hook to anchor E-Z Ups on windy days at their kid's soccer game; or to tie-down a tarp on the truck or trailer or to secure an awning on the RV. Outdoors enthusiasts find the Danik Hook makes it fast and easy to tie-off a tent or hammock between two trees at your favorite campsite, park or in the backyard. Danik Hooks are strong enough to let hunters hoist big game for field dressing, and nimble enough to hang a piñata at a child's birthday party. If you need a rope or bungee cord to tie-down something, Spangler and Austin say the Danik Hook makes the task a snap.
The quick release lever is the heart of all Danik Hooks. The Danik Hook Mini accepts Paracord, bungee cord or rope ranging from 5/32 to 3/8 diameter. The integrated ring makes securing a second line effortless. It is made of a non-corrosive, glass-filled thermoplastic which can lift and hold up to 300 pounds under laboratory conditions. The Danik Hook Mini comes in a two-pack for $29.95.
For bigger jobs, the stainless steel Danik Hook is a hassle-free way to attach any 3/8 to 5/8 inch diameter anchor rope line to secure any size boat or anything else up to 8,000 pounds. It sells for $39.95.
The slightly smaller composite, non-scratching Danik Hook can handle any 3/8 to 7/16 diameter line for anything up to 500 pounds. It sells for $24.95. All Danik Hooks have a one year warranty.
People can find the nearest retailer by going to DanikHook.com. No doubt that list of retailers will soon expand in light of the Danik Hook's success at the National Hardware Show, Spangler said.
The award-winning Danik Hooks will also be available at the International Boatbuilders' Exhibition and Conference ("IBEX"), in Tampa, Florida, September 19-21, 2017.
Danik-Hook maintains its own Manufacturing facility in the San Gabriel Valley of Southern California. Austin made the first prototype in 2007 out of his desire to increase his time skiing on the Colorado River. He then modified the prototype to make it more functional and adaptable to an array of boats. Once he was happy with the anchor line hook's design, he named it after his daughters Danie and Nikki.