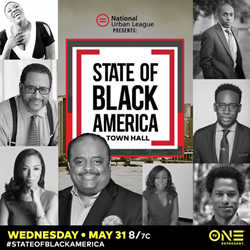 Silver Spring, MD (PRWEB) May 24, 2017
TV One and the National Urban League (NUL) announce the special event "National Urban League Presents: State of Black American Town Hall," a two-hour program that dissects the National Urban League's semi-annual report with commentary by an all-star panel of African-American thought leaders. Moderated by News One Now Host and Managing Editor Roland Martin, the televised town hall premieres on TV One on Wednesday, May 31 at 8 p.m. ET.
Job creation, voting rights, and criminal justice reform are just some of the topics covered during the dialogue, which includes valuable insight and perspective from community thought leaders Dr. Michael Eric Dyson, Georgetown University professor and author; Angela Rye, political commentator and analyst; Touré, culture critic and journalist; Symone Sanders, former national press secretary for Senator Bernie Sanders (D-VT); Jeff Johnson, journalist; Angela Sailor, former director of the RNC's Coalitions Department; and Paris Dennard, GOP commentator.
"Over the last four decades, The State of Black America has become one of the most highly-anticipated benchmarks and sources for thought leadership around racial equality in America across economics, employment, education, health, housing, criminal justice and civic participation," said National Urban League President and CEO Marc H. Morial. "Now, thanks to TV One and our other partners, we're thrilled to be able to bring the conversation to a much wider audience and be the catalyst for a national conversation on issues of racial and economic justice."
In addition to breaking down several key findings from the report, the panel takes questions from the audience that delve deeper into creating small businesses, life after prison, building a family legacy, and remaining 'present' amidst the drama of today's social and cultural ills.
"The question you have to ask yourself is, what are you prepared to do? The reality is every organization is made up of people. We need people who are engaged – there's something in your life that you're passionate about, that you're willing to fight for, and you must decide exactly what that is," said moderator Roland Martin during the telecast. "Understand everything that you do to change our community won't just impact us today. It's going to impact your children's children."
TV One viewers can also join the conversation by connecting via social media on Twitter, Instagram and Facebook (@tvonetv) using the hashtag #StateOfBlackAmerica and catch clips and promos on TV One's YouTube Channel. For more information, please visit our website at https://tvone.tv/SOBA.