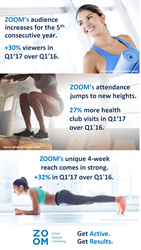 These increases in media viewership and overall health club attendance equate to a 32 percent increase in Zoom's 4-week unique reach.
New York, NY (PRWEB) May 24, 2017
Zoom Active Lifestyle Marketing (Zoom), the exclusive ad, entertainment, health and fitness content provider for the leading U.S. health clubs, reported a 30 percent increase in its health club audience in Q1 2017 compared to Q1 2016. The announcement signals the fifth consecutive year that Zoom has seen an increase in its Q1 viewership.
According to the Nielsen on-location study, Zoom also announced that Q1 2017 saw a 27 percent increase in the total number of health club visits compared to Q1 2016.
These increases in media viewership and overall health club attendance equate to a 32 percent increase in Zoom's 4-week unique reach.
"We continue to see organic growth across the network, and expect that this will continue," said Zoom senior executive vice president of sales & marketing, Tom Link. "Among our largest health club partners, there are between 200 and 300 new clubs opening in 2017."
Zoom engages Generation Active, the over 100 million Americans that exercise at least twice a week, through Nielsen-measured TV, digital, mobile, and custom promotions.
Zoom director of marketing, Anne Fiedel, explained that Zoom's partnerships with the nation's leading health clubs offer brands a unique opportunity to make an impact with consumers. "Our first annual national Generation Active study found that 91 percent of active Americans report feeling energized/happy during or after a workout. We know from a recent study by Yahoo that reaching consumers in an upbeat mood could make digital ads 40 percent more effective, and our study corroborated this. When we looked at respondents belonging to a Zoom partner health club, 67% said they are interested in learning more about, trying and/or buying products they hear about in their health clubs."
About Zoom Active Lifestyle Marketing
Being active is no longer separate from being alive. Generation Active represents the movement of over 100 Million Americans that refuse to be defined by when they were born. They instead demand to be defined by what they do, which includes following a regular exercise routine. Zoom Active Lifestyle Marketing is an international media and marketing company that specializes in reaching Generation Active. Zoom's media network includes more than 4,450 health club locations across the United States, Canada, and the United Kingdom. Zoom's digital media networks are measured by The Nielsen Company in North America and reach over 29 million unique consumers, in addition to millions more that are reached with digital and mobile media and custom promotions.
Information: http://www.zoommedia.com