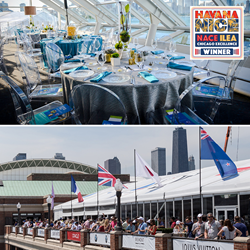 Chicago, IL (PRWEB) May 23, 2017
Arena Americas was honored to receive three NACE ILEA Chicago Excellence Awards for Best Use of Tenting, Best Use of Rental Equipment, and Best N.I.C.E. Team Event. The N.I.C.E. awards have been recognizing the accomplishments of Chicago area members of NACE (National Association of Catering and Events) and ILEA (International Live Events Association) for the past 16 years.
Arena Americas was awarded Best Use of Tenting for the Louis Vuitton America's Cup World Series, which sailed into Chicago in June 2016 as part of the first stage of competition in the 35th running of the event. It centered around the popular Navy Pier along the shore of Lake Michigan in downtown Chicago. Arena supported the competition with clearspan structures, custom printed graphics, flooring, tables, chairs and HVAC, as well as custom structures on the rooftop of the Pier.
Arena Americas was also awarded Best Use of Rental Equipment for the Adler Planetarium's Celestial Ball. The black-tie gala was attended by more than 700 guests and raised over $1.6 million for the planetarium. Arena provided a variety of rental equipment including tenting, air conditioning, power, flooring, tables, mirage chairs, dinnerware, glassware and flatware.
Arena was one of the recipients of the Best N.I.C.E. Team Event for the AFR Chicago Networker. Arena partnered with AFR, Drape Kings, Magnificent Events, Feast & Imbibe, Total Event Resources, and Timothy Whaley Photography to produce an unforgettable networking party for the event industry.
The awards were announced at a Havana themed celebration at The Geraghty in Chicago.