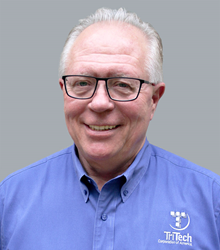 Waukesha, WI (PRWEB) May 24, 2017
TriTech Corporation of America, the trusted single source provider for business IT and support in southeastern Wisconsin, has recently been verified as a Veteran-Owned Small Business (VOSB) by the U.S. Department of Veterans Affairs. Founded in 1993, TriTech participated in the Vets First Verification Program upon learning such a designation was available from the VA Office of Small and Disadvantaged Business Utilization (OSDBU).
VOSB certification opens new doors within the veteran community and is a great opportunity for small businesses like TriTech to expand as a company, explains U.S. Army veteran and owner Tom Dooley. "With the additional support given to us as a veteran-owned business by the VA, we'll have access to more training and resources that will help our small business grow."
As a VOSB, TriTech is eligible for specific governmental contracts in the Vets First Contracting Program and will be able to transfer these exclusive attributes to their service portfolio and business customers. Select services and solutions include computer networking, printer repair, structured cabling, and phone systems. More information on IT support and TriTech can be found at http://www.tritechcoa.com.
The application for VOSB verification is a strenuous but "good process," Dooley describes, who enlisted in 1972. "I had to provide my discharge papers, military records, business documents, [and] tax filings. It filters out those who served from those who didn't, and I'm appreciative for that as a veteran."
Managed by the Center of Verification and Evaluation at the OSDBU, the Vets First Verification Program ensures that set-aside funds and contracts are awarded to legitimate firms owned and controlled by Veterans and Service-disabled Veterans, as stated in the Veterans Benefits, Health Care, and Information Technology Act of 2006 (Public Law 109-461).
About TriTech:
TriTech Corporation of America is Wisconsin's source for integrated information technology services. Founded in 1993, we focus on helping local businesses increase productivity and reduce overall expenses through using the right technology. Our certified technicians bring years of experience and proven accountability to every project. We believe that providing integrated services is the best way to save you time and money. It's simple and stress free. We take the guesswork out of IT, because we do it all.