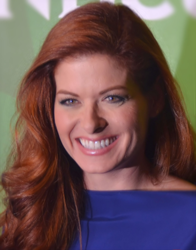 Everyone should be just good with themselves. It's not about being perfect.
Olympia, Washington (PRWEB) May 31, 2017
In a May 8 interview with Debra Messing at Elle, the actress discussed her positive experiences with CoolSculpting, a fat freezing alternative to liposuction. The star of the legendary, soon to be revived sitcom, "Will & Grace," was quick to agree that the procedure is about looking better, rather than an actual substitute for weight loss or a miracle solution for weight issues. "No. It's more like, my mom told me when I was young, when your posture's better, you look better. When you don't feel confident, you hunch. Everyone should be just good with themselves. It's not about being perfect," said Ms. Messing. Northwest Vein & Aesthetic Center stated that the 48 year-old actress and mother learned what countless other women and men have already discovered: CoolSculpting is a convenient and painless alternative to liposuction that really does reduce stubborn pockets of fat that fail to respond to ordinary weight loss efforts.
Northwest Vein & Aesthetic Center notes that CoolSculpting's mechanism of action is selective freezing of fat cells. Since fat becomes frozen at a higher temperature than skin, muscle, or organs, it is therefore possible to freeze fat by chilling a targeted area without causing any damage to other, vital non-fat tissue. The freezing causes fat cells to be gradually excreted from the body via natural processes. The final result is a more slender and defined appearance, similar to what may occur with a liposuction procedure, but without the associated post-surgical recovery and downtime of liposuction. The clinic adds that CoolSculpting is safe with low risk of any side effects.
The Washington State based center adds that it's important for potential patients to understand that, while CoolSculpting is a highly effective procedure, it should not been used as a substitute for proper exercise and a healthy diet. They note that the technique is designed to eliminate specific pockets of fat that are relatively small and is in no way intended as a treatment for obesity. They note, however, that for patients like Debra Messing, who are in otherwise good shape but are bothered by specific areas that are plumper than they would like, it can be the ideal solution.
Readers who would like to learn more are invited to call (253) 948-4378 or visit http://nwveins.com/. Northwest Vein & Aesthetic Center has two Washington State locations in Olympia and Gig Harbor. The practice is staffed by highly experienced medical professionals who are highly familiar with medical aesthetic and vein concerns.