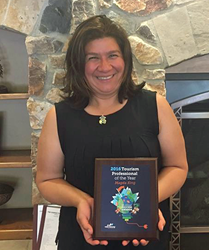 The real honor for me is to work with such amazing staff members," says Antlers GM King.
Vail, Colorado (PRWEB) May 24, 2017
The Antlers at Vail hotel in Vail, Colorado, announces that General Manager Magdalena King has been named 2017 Tourism Professional of the Year at the Vail Valley Partnership Success Awards.
"Magda King represents the very best of our community; she embodies the commitment to excellence, service and leadership outlined in this award," says Chris Romer, President and CEO of the VVP. "Specifically, starting a book club at the Antlers for the staff – which led to employees gaining their GED – is an example of her commitment to the community."
Vail Valley Partnership, Eagle County's nonprofit regional community development organization, hosted its 14th annual awards ceremony on May 12, 2017. Each year the Success Awards recognize businesses that have excelled over the past year, acknowledging their work and dedication as the best in the Vail Valley. A full list of this year's honorees can be found here.
King, who joined the Antlers at Vail staff in 2007, had been Assistant General Manager for four years when she was promoted to General Manager in October 2016 on the retirement of longtime GM Rob LeVine. In addition to her GED program for housekeeping staff, King was instrumental in helping Antlers at Vail receive the Platinum ranking, managing the innumerable aspects of design and construction upgrades to the hotel's condominiums to meet the exacting standards for Vail's highest-level rating for lodging.
King also was lauded as Hospitality Professional of the Year by the VVP in 2014, and in 2016 received the Community Partnership Award from the Colorado Association of Libraries for her ongoing efforts to improve employee literacy, financial stability and individual citizenship status.
Born in Guayaquil, Ecuador, King has long been conscious of her role as a Latina businesswoman and strives to help employees find success. "I feel very honored by this recognition," King says. "But in reality, I am not the hero in this story. All of the employees, these dedicated men and women who, after a long day's work go home to study math, read a book or do homework, are the ones who deserve all the attention and praise. The real honor for me is to work with such amazing staff members who believe in the great hospitality this valley has to offer."
About Antlers at Vail:
Antlers at Vail hotel offers a relaxed Vail lodging experience in a fabulous mountain setting and has achieved Vail's Platinum lodging rating, the TripAdvisor Certificate of Excellence and GreenLeader status and received the 2016 Community Impact Award from the Vail Valley Partnership. With condominiums ranging from studio suites up to four-bedroom penthouses, the Antlers has an A+ location on the banks of Gore Creek, just steps from restaurants, galleries, shops, free Vail town shuttle and the Lionshead Gondola. For more information and reservations visit http://www.antlersvail.com.
Media Contact: Anne McGregor Parsons, Word PR + Marketing, anne(at)wordprmarketing(dot)com, 303.777.7667