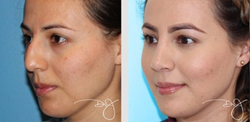 Increasingly, people view plastic surgery and other procedures as simply another way to make the most of their appearance.
Beverly Hills, California (PRWEB) May 24, 2017
A May 22 article on Business Insider reveals new information from the American Society of Plastic Surgeons (ASPS) showing continued growth for the practice of plastic surgery. In the new study, nose shaping rhinoplasty led procedures in terms of dollars, with a mindboggling $1.1 billion spent in the United States during 2016; closely following was breast augmentation with $1.08 billion. Beverly Hills-based plastic surgeon, Payam Jarrah-Nejad, M.D., F.I.C.S., F.A.C.S., known more casually to his patients simply as Dr. J, says that the new data reflect many important societal factors, including the growing use of plastic surgery by male patients and the increased social acceptance of all procedures by all genders. Dr. J notes that, increasingly, people view plastic surgery and other procedures as simply another way to make the most of their appearance.
Among the more intriguing statistics included in the article, Dr. J notes that American men obtained 55,024 rhinoplasties and 30,958 blepharoplasty (eyelid) procedures last year as well as numerous liposuctions, facelifts, and tummy tucks. Dr. J notes that U.S. males in particular have historically been somewhat resistant to the notion of appearance-improving procedures, largely based on outmoded notions of masculinity. Dr. J notes, however, that it's not only millennial men who are more open-minded about plastic surgery, as many of the men he sees are middle-aged and older. He notes that many of them say they are concerned with remaining relevant both professionally and socially – a growing issue for both genders as more and more people are remaining healthy and active well into their later years.
Dr. J notes, however, that what's really going on is an overall growing public acceptance of plastic surgery. He adds that, while gossip web sites still sometimes stoke the fires of controversy around procedures with headlines about celebrities "confessing" to "accusations" of plastic surgery, it's becoming increasingly clear that the general public believes there's nothing to confess or accuse about. Dr. J says that more and more people are coming around to the view that plastic surgery is, at heart, not that much different from altering an individual's wardrobe or hairstyle. He notes that, while any procedure is serious business and requires the skills of a board certified plastic surgeon, it's a procedure that should remain open to anyone who's ready to take a big step towards looking and feeling their very best.
Readers who are interested in learning more about Dr. J's qualifications are welcomed to call his office at 310-683-0200. They can also learn more via his web site.