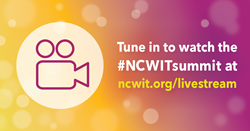 Giving credit for change leaders' extraordinary accomplishments is important in marketing the need for women's invaluable technical contributions.
Tucson, Arizona (PRWEB) May 24, 2017
NCWIT Summit award celebrations are available to watch on the livestream: https://www.ncwit.org/livestream.
The National Center for Women & Information Technology (NCWIT) is holding its annual "NCWIT Summit on Women and IT: practices and ideas to revolutionize computing" through today, Wednesday, May 24, in Tucson, Arizona. At this three-day event (https://www.ncwit.org/summit), nearly 900 change leaders from the NCWIT community of educators, entrepreneurs, corporate executives, and social scientists focus on improving inclusion and diversity in computing.
"Giving credit for change leaders' extraordinary accomplishments is important in marketing the need for women's invaluable technical contributions," said NCWIT CEO and Co-founder Lucy Sanders. "By utilizing the Summit stage, we're broadcasting their value and worth to a broad community of influencers who work to make computing inclusive for all."
A summary of honorees is as follows, and full commendations are available in the printed program (PDF):

The 2017 NCWIT Collegiate Award winners are Pooja Chandrashekar, Valerie Chen, Bethy Diakabana, Anvita Gupta, Divya Mahajan, and Manisha Mohan; honorable mentions are Danielle Bragg, Sharon Chen, Kelsey D'Souza, Alankrita Dayal, Asmaa Elbadrawy, Emily Greene, Rachel Harsley, Rae Lasko, Yamini Nambiar, Vinitha Ranganeni, Stacey Truex, and Maya Varma. The Collegiate Award, sponsored by Hewlett Packard Enterprise and Qualcomm, honors the outstanding technical accomplishments of college women of any year of study. Conferred annually, the Award recognizes technical contributions to projects that demonstrate a high level of creativity and potential impact.
The 2017 NCWIT Extension Services Transformation (NEXT) Awards winners are the University of Illinois at Urbana-Champaign, Department of Computer Science; University of Michigan, Division of Computer Science and Engineering; and the University of Colorado Boulder, Department of Computer Science; honorable mentions are the University of Pennsylvania, Department of Computer and Information Science, and New York University Tandon School of Engineering, Departments of Computer Science and Engineering; Technology, Science and Culture; and Mechanical and Aerospace Engineering. The NEXT Awards, sponsored by Google, celebrate past and present Extension Services for Undergraduate Programs (ES-UP) clients for excellence in recruiting and retaining women in computing education. Winning departments show significant positive outcomes in women's enrollment and graduation rates, and have excellent potential for building on these gains.
The 2017 NCWIT Harrold and Notkin Research and Graduate Mentoring Award winner is Dr. Jennifer Rexford. The Harrold and Notkin Award, sponsored by the NCWIT Board of Directors, is given in memory of Mary Jean Harrold and David Notkin, in honor of their outstanding research, graduate mentoring, and diversity contributions.
The 2017 NCWIT Academic Alliance Seed Fund winners are Claflin University, Fairleigh Dickinson University, Green River College, and the University of North Carolina at Charlotte. The Seed Fund, sponsored by Microsoft Research, awards Academic Alliance members with startup funds to develop and implement initiatives for recruiting or retaining women in computing.
The 2017 Reel Women in Technology (WiT) Award winner is Allison Schroeder. The Reel WiT Award; presented by the Geena Davis Institute on Gender in Media, Google, and NCWIT; recognizes the best portrayal of leading women in technology from a program (e.g., documentary, tv show, film, YouTube, etc.) who serve as role models for girls and women with computing aspirations while disrupting the stereotypes of women in technology.
View the 2017 Summit agenda (https://www.ncwit.org/summit/agenda) for more event highlights.
Awards ceremonies will be streamed live via the NCWIT website, giving change leaders for women in tech in remote locations access to inspirational acknowledgements in real time. Videos and presentations will be available following the conclusion of the Summit (https://www.ncwit.org/summit/archives).
We'd like to give a huge thanks to our Media Partner JupiterReturn for production and making the livestream possible. We are also grateful to 2017 NCWIT Summit Silver Sponsors Brad Feld and Amy Batchelor and Johnson & Johnson, Bronze Sponsor Ernst & Young LLP, as well as Woot Math for providing financial support.
About NCWIT
The National Center for Women & Information Technology (NCWIT) is a non-profit community of nearly 900 universities, companies, non-profits, and government organizations nationwide working to increase girls' and women's meaningful participation in computing. NCWIT equips change leaders with resources for taking action in recruiting, retaining, and advancing women from K–12 and higher education through industry and entrepreneurial careers.
NCWIT receives significant financial support from Lifetime Partner Apple; Strategic Partners NSF, Microsoft, Bank of America, Google, Intel, and Merck; as well as from Investment Partners Avaya, Pfizer, AT&T, Bloomberg, Hewlett Packard Enterprise, and Qualcomm.