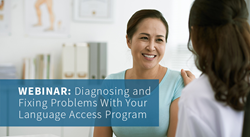 Seattle, WA (PRWEB) May 24, 2017
InDemand Interpreting, a technology-enabled language services performance improvement company and a leading video remote interpreting (VRI) provider within Healthcare, announced a webinar: "Diagnosing and Fixing Problems with your Language Access Program." This webinar is hosted in partnership with Critical Measures, a national management consulting and training organization specializing in cross-cultural healthcare and the law of language access.
InDemand Interpreting immediately connects healthcare professionals to medically qualified interpreters 24 hours a day, seven days a week, in more than 200 languages, including American Sign Language (ASL) across the care continuum. VRI technology enables clinicians to provide greater language access for LEP, Deaf and HOH patients, improving overall patient care.
This webinar will discuss best practices that providers can establish to proactively improve their language access policies and practices while improving the quality and safety of care and reducing the risk of legal liability, including:

How to conduct a legal language access audit of your hospital's language access systems, policies and practices.
How to conduct a best-practices review of your language access program.
How to assess the cultural and linguistic competence of your providers.
How and why your hospital should have a Language Access Plan.
The most common legal language access compliance problems and how can you avoid them.
Tips and tactics for increasing the operational efficiency and cost-effectiveness of your language access program.
Training programs which can correct identified deficiencies in hospital language access programs.
The featured speakers for this webinar are David B. Hunt, CEO of Critical Measures, and Kalen Beck, a former interpreter and director of language operations. Mr. Hunt is a former civil rights attorney and a national expert on the law of language access in health care. Kalen Beck brings more than 25 years of language access expertise to the healthcare field as an independent interpreter, director of language operations and as an executive from Oregon Health and Science University.
"We are delighted to host webinars devoted to establishing effective language access programs that will benefit healthcare organizations nationwide," said Casey Zanetti, VP Marketing, InDemand Interpreting. "One of the best practices of language access programs includes the use of video remote interpreting, which offers an accessible, cost effective and reliable language access solution for use in all healthcare settings."
For more information about the webinar and to sign up, please visit: https://www.indemandinterpreting.com/blog/blogdiagnosing-fixing-problems-language-access-program/.
About InDemand Interpreting
InDemand Interpreting was founded in 2007 with the vision of ensuring that every patient receives the highest quality healthcare, regardless of language, cultural background or disability. By delivering the most experienced medical interpreters and highest quality video technology InDemand Interpreting provides doctors, nurses and clinicians the language access they need to provide the best possible care. Visit InDemand at http://www.indemandinterpreting.com