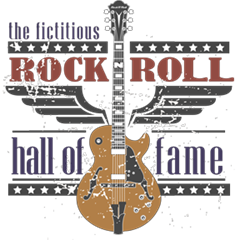 Toronto, ON (PRWEB) May 25, 2017
Last December, The Fictitious Rock and Roll Hall of Fame announced it's second full class as voted by a one year long vote by the public.
That class comprised Gorillaz and Tenacious D who joined the inaugural (and controversial) inductees of Spinal Tap, The Blues Brothers and The Monkees.
Like in previous years, the opening round began with over 500 Fictional Musicians which has been reduced to 40 Fictional Rock and Roll Hall of Fame Semi-Finalists.
The 40 Fictitious Rock and Roll Hall Semi-Finalists are:
Aldous Snow (Get Him to the Greek)
Alice Bowie (Cheech & Chong)
Alvin & the Chipmunks (Alvin & the Chipmunks)
Archies, The (The Archies)
Autobahn (The Big Lebowski)
B-Sharps, The (The Simpsons)
Banana Splits (The Banana Splits)
Bleeding Gums Murphy (The Simpsons)
Brady Bunch Kids, The (The Brady Bunch)
Buckaroo Banzai & the Honk Kong Cavaliers (The Adventures of Buckaroo Banzai Across the 8th Dimension)
Bugaloos, The (The Bugaloos)
CB4 (CB4)
Commitments, The (The Commitments)
Dethklok (Metapcolypse)
Dewey Cox (Walk Hard: The Dewey Cox Story)
Dingoes Ate My Baby (Buffy the Vampire Slayer)
Dr. Teeth & the Electric Mayhem (The Muppets)
Eddie and the Cruisers (Eddie and the Cruisers)
Figran' Dan and the Modal Nodes (Star Wars)
Hedwig and the Angry Inch (Hedwig and the Angry Inch)
Jem and the Holograms (Jem and the Holograms)
Jessica Rabbit (Who Framed Roger Rabbit?)
Josie & the Pussycats (The Archies & Josie & The Pussycats)
Junkyard Band, The (Fat Albert)
Marvin Berry & the Starlighters (Back to the Future)
Michigan J. Frog (Warner Brothers)
Niggaz With Hats (Fear of a Black Hat)
Otis Day & The Knights (Animal House)
Partridge Family, The (The Partridge Family)
Ricky Ricardo (I Love Lucy)
Rowlf the Dog (The Muppets)
Rutles, The (The Rutles)
School of Rock, The (The School of Rock)
Sex Bob-Omb (Scott Pilgrim Vs. The World)
Soggy Bottom Boys, The (O Brother, Where Art Thou?)
Timmy and the Lords of the Underworld (South Park)
Wonders, The (That Thing You Do!)
Wayouts, The (The Flintstones)
Winslow Leach (Phantom of the Paradise)
Wyld Stallyns (Bill & Ted's Excellent Adventure)
The top fifteen vote getters will advance to the Final Round.
The Finalists will be announced on August 30, 2017.
The Fictitious Rock and Roll Hall of Fame, along with its sister site, The Fictitious Athlete Hall of Fame is part of Notinhalloffame.com, a pop culture/sports website that first launched in 2009 by Kirk Buchner.