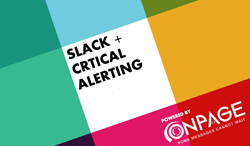 Waltham, MA (PRWEB) May 24, 2017
OnPage has created yet another home for its famed Critical Alerting and Communications platform by taking up residence on the Slack Marketplace homepage. By appearing on the Slack Marketplace, OnPage demonstrates that it is now a member of the bigger Slack family. This inclusion on the Slack Marketplace also highlights the importance which OnPage's Alerting and Messaging play in enhancing Slack's existing functionality.
The question has always been how teams could receive immediate notifications when incidents occurred. Now, OnPage has provided the 21st century with an answer by providing encrypted smartphone enabled critical messaging and alerting.
OnPage's smart algorithm enables teams to unhinge themselves from whiteboards and servers and instead focus on work. Teams from across the spectrum use OnPage's alerting logic to apprise them of important situations based on priorities they have set for their group and alert members of their team based on a preset rules engine. OnPage knows who to alert and when based on the rules created by the administrator.
Slack is able to complement this functionality by providing a casual and open messaging platform where anyone with an invitation can join. Slack's mantra is that it is 'where work happens'. By allowing for casual messaging during work hours, dispersed teams or even teams spaced out on different floors can easily communicate on a common platform while they are online.
By combining their functionalities, Slack's casual messaging can enhance channels and highlight them as a place where critical work can get done in addition to casual work. For example, if during a Slack conversation employees of an e-commerce company notice a broken and critical piece of functionality, the developers can send off a high-priority OnPage message from the Slack channel to invite peers who are not online at the moment to log-in and join the conversation.
In the message, which will arrive on the developers' smartphone with Alert-Until-Read functionality, team members can tell their fellow developers to join them on the high priority #dev Slack channel to discuss how to fix the problem and fix it quickly.
ABOUT ONPAGE
OnPage is the industry leading Mobile Critical Messaging and Incident Alert Management System. Built around the incident resolution lifecycle, the platform enables organizations to get the most out of their digitization investments, ensuring that sensors and monitoring systems have a reliable means to escalate issues and alerts to the right person immediately.
OnPage's escalation policies, redundancies, and scheduling algorithms ensure that a critical message is never missed. Infinitely more reliable and secure than emails, text messages and phone calls combined, OnPage reduces incident resolution time and improves productivity by advancing the digital operations of your business.
Whether to minimize IT infrastructure downtime, or to minimize response time of health care providers in life and death situations, organizations are heavily investing in digitization across their business and relying on OnPage for all their secure, HIPAA compliant, critical messaging needs.